Our seaside city is one of the best places in Australia to hang out with the humpbacks. The Gold Coast Highway runs parallel to another highway, but it's not one you can drive. To travel this popular and picturesque route, you're going to need either a boat or fins and powerful flukes. It's the Humpback Highway – the annual migration route for thousands of humpback whales on their way to warmer northern waters for the winter.
Whale watching is an iconic experience on the Gold Coast and you should absolutely hop aboard a tour and head out to see these incredible creatures up close in their natural environment. To see them frolicking, breaching and blowing is an exhilarating experience that will stay with you long after you set foot on land again.
MORE WHALES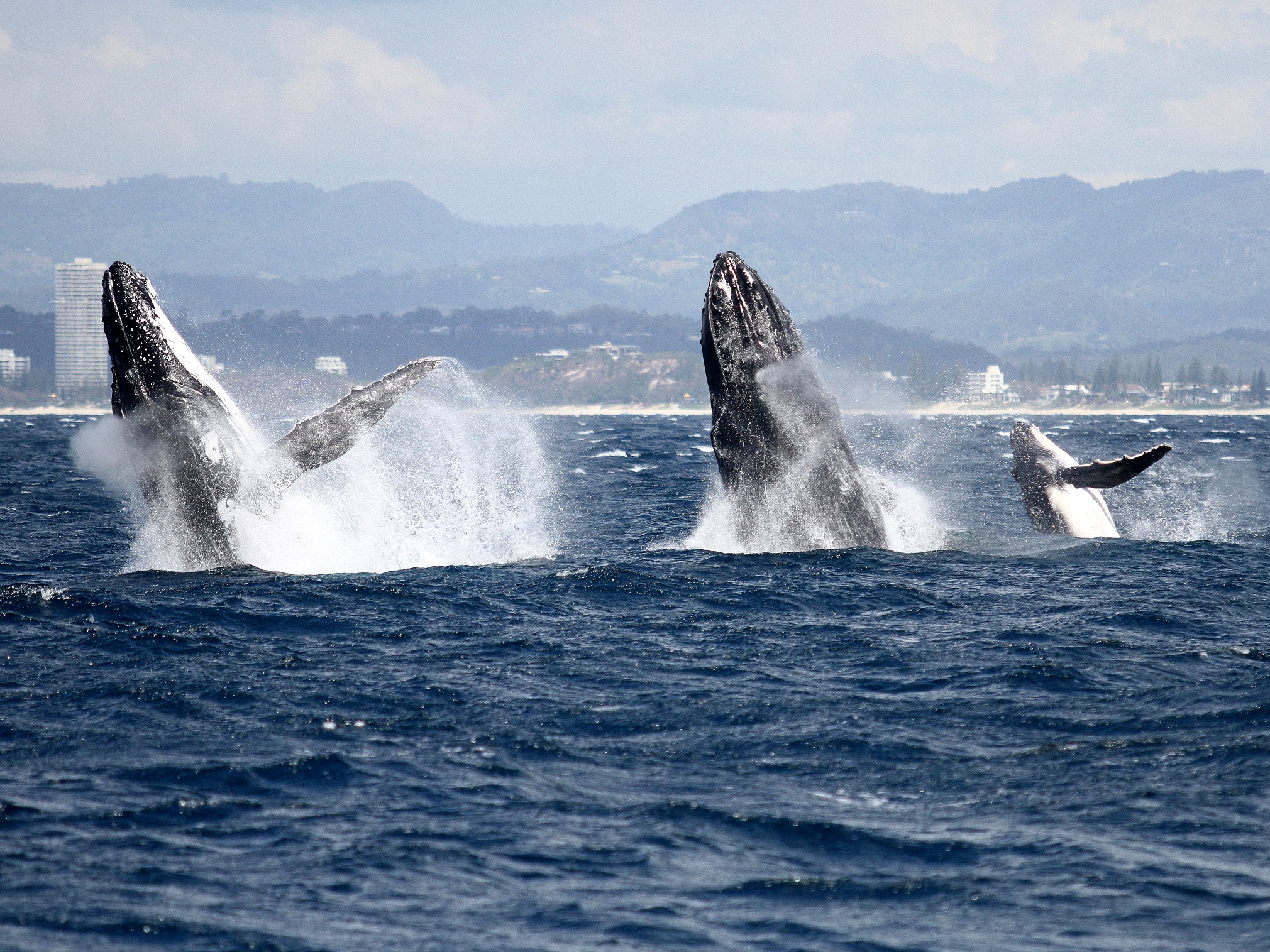 An estimated 35,000 whales embark on their migration through the Gold Coast each year. That's a lot of whales, which is a wonderful thing. These incredible creatures have made their way back from the brink of extinction to become a global conservation success story – so much so that they are no longer considered a threatened species. With population numbers increasing each year, there's a lot of aquatic traffic along the Humpback Highway, which makes for marvellous whale watching.
SHORE THING
Their numbers are so plentiful that Gold Coast whale watching tours have a 100% whale guarantee. So if by some small chance you don't spot any whales on your tour ( a very rare occurrence), you can return free of charge on another day that suits your schedule. While boats aren't permitted to get closer than 100m from a whale, that doesn't mean the whales won't come to the boat. They are curious creatures and some seem to enjoy observing humans, as much as humans enjoy observing them!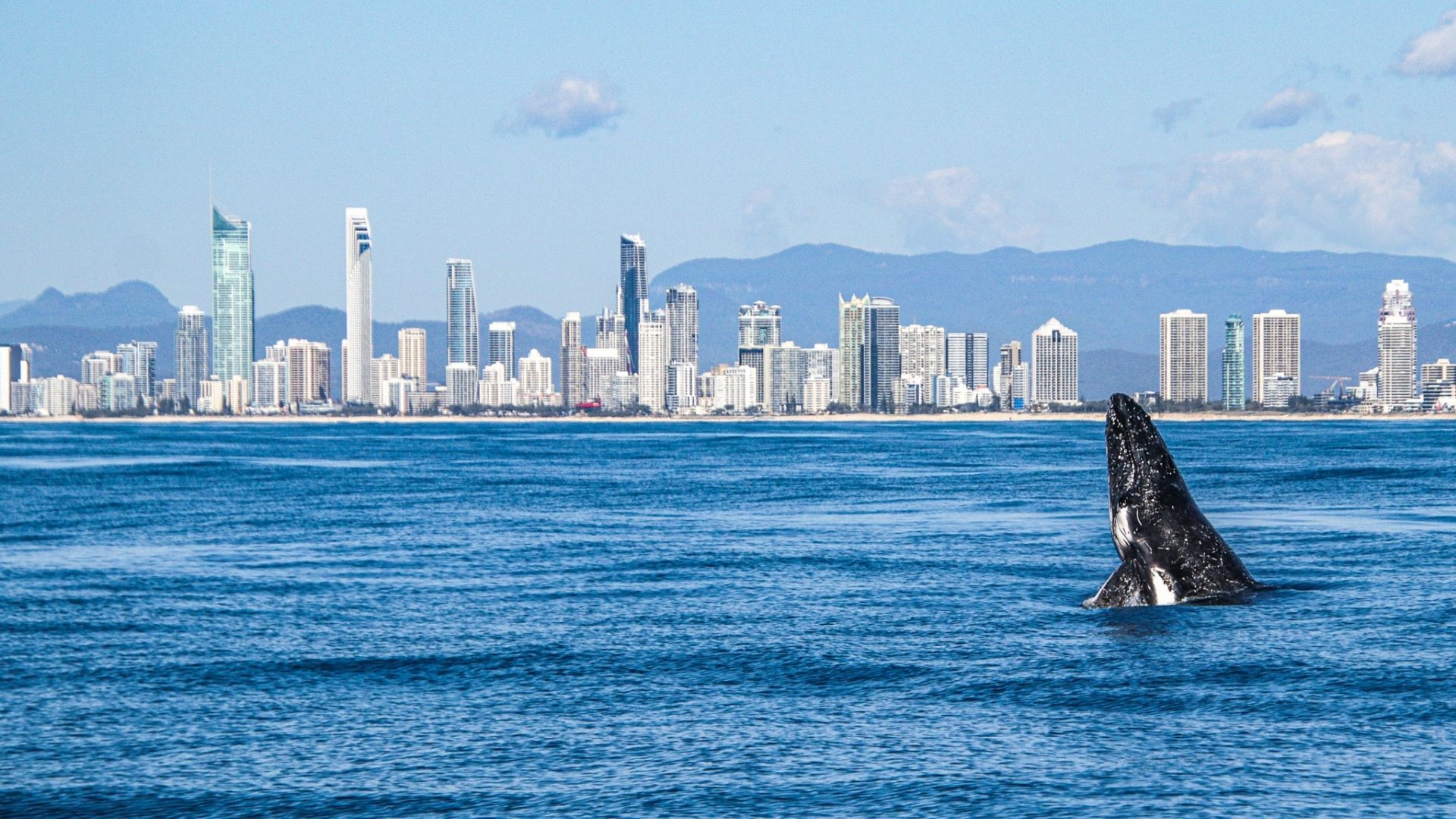 NATURAL WONDER
It's hard to comprehend the size of these massive mammals until you see them up close. Some of the largest humpbacks reach sizes of up to 16m long and weigh over 30 tonnes (that's the same as 11 elephants!). They can live up to 90 years old, which means some of the whales you see have been making this journey every year for decades. A newborn calf is only about 4m long and on their migration south, mother humpbacks use the protected Gold Coast waters as a nursery to rest and play in. The calves are still learning to swim and breach and watching them flop about as they practice is sure to bring smiles. An up close encounter with these sentient aquatic mammals on a whale watching tour is awe-inspiring, humbling and deeply moving – an experience you'll never forget.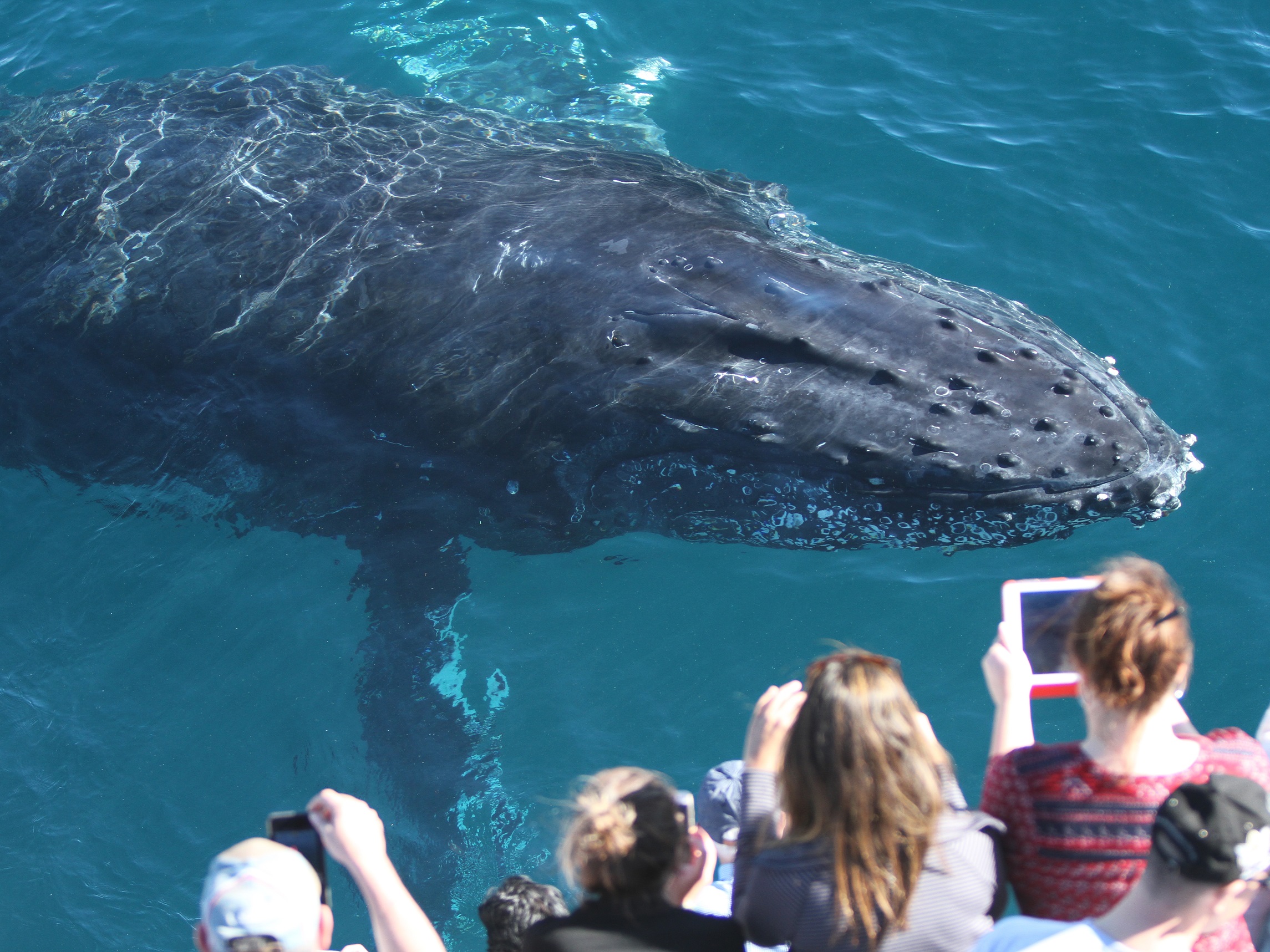 FAST COMMUTE
The Gold Coast is in such close proximity to the Humpback Highway that there's very little travel time involved. Tours depart from numerous locations (Main Beach, Surfers Paradise Runaway Bay and Coolangatta) and you can be watching whales play within 20-30 minutes. This is great news for parents with little people impatient to see all the action (and anyone who gets seasick). It also means you can go for an early morning whale watching tour and be back on land before lunch with the rest of your day to spend at your leisure, relaxing, shopping or exploring Gold Coast's other attractions.
TAKE YOUR PICK OF TOURS
You'll be spoilt for choice when it comes to selecting a whale watching tour. There are a number of Gold Coast operators who offer a huge range of experiences in various sized vessels for different-sized groups. You can go for a few hours or a whole day, enjoy a bacon and egg roll and a cuppa on a breakfast cruise, or join a half-day research expedition where your observations will assist with whale conservation. You can take a tour on a chartered yacht for an intimate experience, or step aboard a custom-built vessel with multiple viewing platforms and underwater microphones that let you hear the whales singing as they pass by your boat.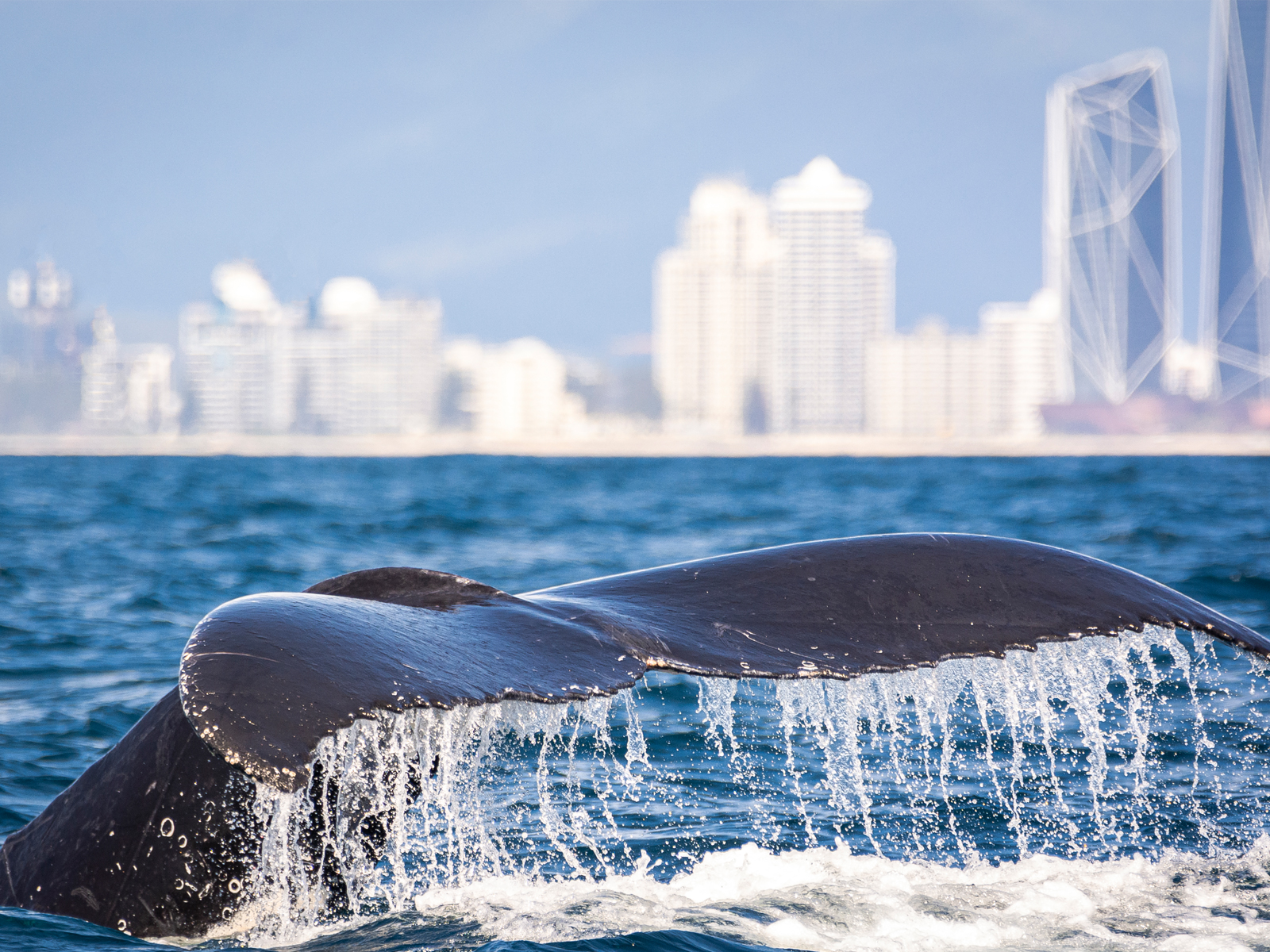 EXTENDED SEASON
The Gold Coast has the longest continuous whale watching season in Australia, stretching over five whole months and two school holidays from roughly late May to October. This means there's ample opportunity to take a whale watching tour. The humpbacks' migration is one of the longest journeys of any animal on the planet. They embark on a 5000km journey, leaving the icy waters of the Antarctic to head north up the east coast of Australia to the warmer waters of Queensland to mate and birth their young before making the return trip.
At different times during the season, you'll see different behaviours from the whales. Early in June, it's mainly females with their calves from the previous year – these youngsters are exuberant and playful and love to show off with impressive surface displays. July and August is the busiest time on the Humpback Highway when the migration peaks. Large pods pass through and the sight of their spray and splashing out to sea are a common sight from Gold Coast beaches. Pregnant females slowly swim north and many adult males are around at this time, competing for attention from the lady whales (cue acrobatics!). September is when they start heading south again and towards the end of the season over October, there are lots of mothers with newborns – a truly magical sight to see.
Liked this blog? You might also enjoy Sustainable Travel: Your Gold Coast Eco-Tourism Guide.
Dreaming of a Gold Coast holiday? Subscribe to our email list to receive inspiration and exclusive deals straight to your inbox!
ACKNOWLEDGEMENT OF COUNTRY
Destination Gold Coast acknowledges the Traditional Custodians of the land on which we are situated, the Kombumerri families of the Yugambeh Language Region.

We pay our respects to their Elders past, present and emerging, and recognise their continuing connections to the lands, waters and their extended communities throughout Southeast Queensland.