You might have been here before but if you think you've 'done' the Gold Coast, think again! There are certain images that spring to mind when you think of a trip to the Gold Coast. The cluster of highrises that make up the Surfers Paradise skyline, surfers riding world-class waves, sky high roller coasters and patting kangaroos. Many of the attractions that made this city so popular in the first place remain but we've changed… for the better!
These days, the Gold Coast has evolved into a world class city with a sophisticated side - think luxury hotels, incredible cultural events, nature escapes and fine dining. Pick up the pace with thrilling attractions and active adventures or slow right down and destress at a beautiful bath house, beach club or day spa. We've gathered all the good stuff in one place so you can spend less time planning, and more time playing. Here's a look at all the incredible new experiences, accommodation, dining and fun to explore on your next trip to the Gold Coast.
Say Hello to the Hinterland
It's hard to tear yourself away from the incredible coastline, but for a completely different experience and a dose of fresh mountain air, hit the road (under an hour's drive) to discover the green behind the gold - the Gold Coast Hinterland. With 100,000 hectares of World Heritage-listed rainforest and national parks, this lush, mountainous region is known for untouched wilderness, winding roads, waterfalls galore, hiking, foodie finds, guided day trips and tree top adventures.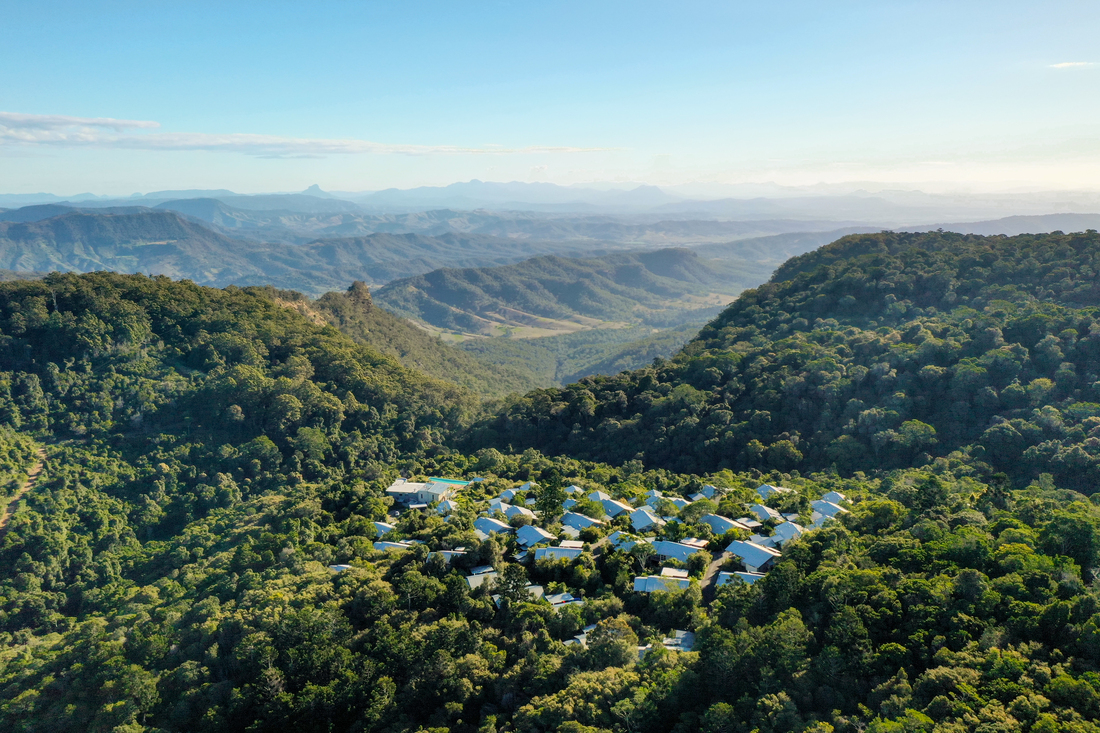 Hiking in World Heritage-listed Rainforest
There are close to 700 km of hiking trails that weave through beautiful bushland reserves, conservation areas and national parks which allow you to explore the Australian subtropical rainforest. Lace up your hiking boots for a bracing bushwalk complete with waterfalls, wildlife and jaw-dropping look-outs. From short, accessible 1km routes to two-day hikes through hardcore terrain, discover more hinterland walking trails here.
Waterfalls & Swimming Holes
Wander through ancient rainforests where cool, freshwater creeks flow into rock pools and waterfalls. Curtis Falls in Mount Tamborine is one of the easiest to access. Take the 10-minute walk by torchlight and visit at night to see a galaxy of glow worms softly shining in the dark. Drive out to the end of Currumbin Valley (half an hour from the beach) to explore Currumbin Rock Pools and Cougal Cascades - on a scorching hot summer day, these special spots provide a serene escape from the heat.
Nature Stays
Soak up the serenity and breathtaking Hinterland views with a stay at a rainforest retreat, a luxury estate, eco-cabins, camping or up the luxe factor with a glamping experience. Binna Burra Lodge and O'Reilly's Rainforest Retreat offer a range of accommodation options from self-contained apartments with balconies to view the beautiful vistas, or onsite safari tents, perfect for a family camping trip. Cedar Creek Lodges in Mount Tamborine offer self-contained lodge accommodation, creekside campsites or gorgeous glamping tents - we're talking a king-sized bed, private deck and a shower under the stars. For a luxury stay, try the beautiful cabins at Beechmont Estate or the classic country charm of Verandah House.
Make a Furry Friend
At Mountview Alpaca Farm you can enjoy the unique experience of taking one of the cute, fluffy pack members for a walk - the perfect way to connect with nature in a stunning location. Since it's conveniently located within the grounds of O'Reilly's Canungra Valley Vineyard, you can stroll along the pretty creek that runs through the property or wander through the grapevines. Take advantage of package deals that include pizzas or a picnic lunch and make a day of it. A selfie with your furry friend is an essential souvenir of this utterly adorable animal encounter.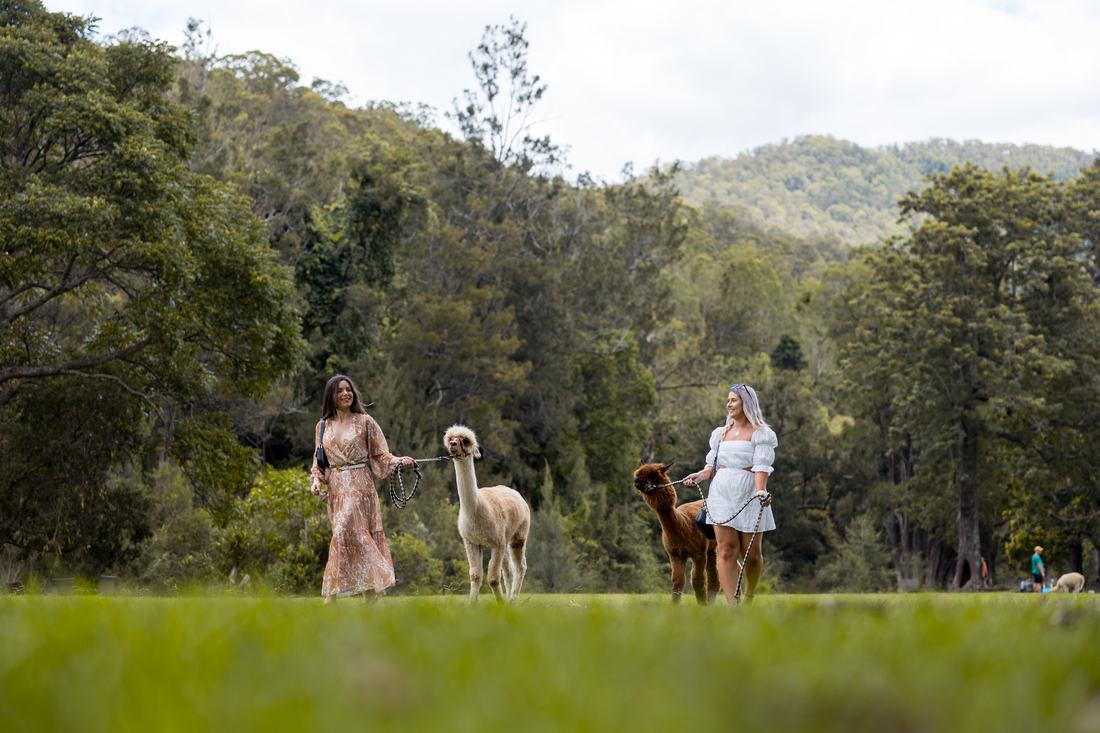 Sample a Local Drop
Fancy a glass of wine with your sunshine? The Hinterland is a hotspot for local produce and there are plenty of places to sample a delicious local drop. Head to Hampton Estate, Cedar Creek Estate or Witches Falls Winery for wine tasting, Tambourine Mountain Distillery or Cauldron Distillery for local spirits. Beer drinkers should make a bee line for Fortitude Brewing. Designate the driving and join a guided Hinterland tasting tour with Pineapple Tours or Kiff & Culture.
Treetop Adventures
Take the treetops for a birds-eye view and some high flying thrills. Australia's largest treetop adventure park, Treetop Challenge is an epic high ropes course with four different levels of difficulty, that will see you jump, clamber, climb and swing through various obstacles. It's the perfect activity to do with kids - the feeling of fun and freedom as you zoom down zipline sections will have you squealing with joy! Other treetop fun includes the Canyon Flyer (1.4 km of zipline fun over seven zip lines that carry you high above beautiful bushland) and the Tamborine Forest Skywalk - a more sedate experience where you can explore the rainforest canopy from an elevated walkway, 30 metres up in the air.
Tours & Experiences
Immerse yourself in epic experiences from riding over the water or diving deep beneath it, cuddling cute critters or screaming your head off on one of our newest theme park rides. Check out some of the coolest new things to do on your holiday.
Top Gold Coast Tours
Joining a guided tour is a brilliant way to explore the Gold Coast. Whether your want to sample local food and wine, sip a local drop at our boutique breweries and distilleries, or explore the hinterland, jump aboard with one of these tour operators who'll ensure your experience will be remembered as a highlight of your holiday. Kiff & Culture offer epic food and drink tour experiences with local culture and outdoor fun. Pineapple Tours have a huge range of tours available from Hinterland wine tours to jet ski safaris and brewery tours. Hopon Brewery Tours will give you an education in Gold Coast breweries and beer, or explore the natural wonders and local flavours of the Hinterland with Southern Cross Tours.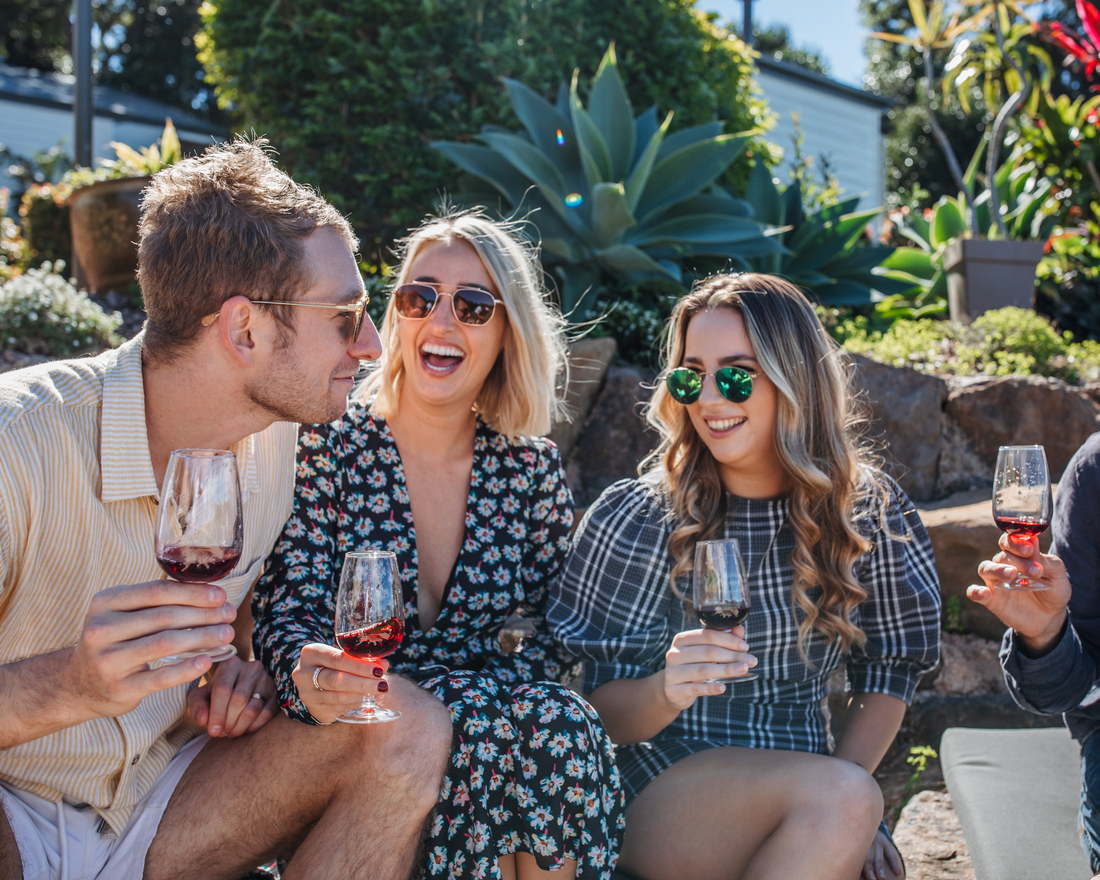 Wonder Reef
If you're a scuba diver, we've got great news. In June 2022, Gold Coast's $5 million dive site, Wonder Reef, opened to the public. Just a 10-minute boat trip offshore, the world's first floating reef has to be seen to be believed. To create this incredible underwater experience, a sculptor collaborated with engineers and reef experts to make nine huge conical steel structures that are anchored to the ocean floor, but are suspended at different depths. The spiralled flutes move with the energy of the ocean, resembling an ethereal, super sized kelp forest. Divers can explore the reef, observing the coral, sea creatures and evolving marine ecosystem at depths of 8, 18 and 30 metres to suit every level of diver.
New Rides & Slides
With the arrival of some new rides, slides and experiences, our famous theme parks have fit in even more fun. The New Atlantis precinct at Sea World features three new attractions - strap in for serious fun on Vortex, Trident and Leviathan - an iconic wooden roller coaster. Take on the Steep Taipan - Dreamworld's newest, fastest roller coaster with a spinning gondola on the back carriage (for strong stomachs only!). And at Wet 'n' Wild four epic new attractions are creating a serious splash with three heart-racing new rides and a tropical splash zone with plenty of shade and seating.
Meet Marine Life
There are some incredible aquatic adventures to be had in our amazing ocean. Watersports Guru will take you snorkelling with turtles at Cook Island - just south of the Gold Coast at Fingal Heads. This spot is home to a permanent population of Green, Hawksbill & Loggerhead Turtles and you might find some of these gentle giants even getting nice close & personal ready for a photo. During whale season you'll also see the majestic humpback whales on their annual migration north.
You can also visit the Great Barrier Reef on a day tour from the Gold Coast. Flying up to Lady Elliot Island in a small place allows you to view one of the most pristine sections of Australia's Great Barrier Reef from the air as well as from above and below the water all in one day. Lady Elliot is regarded as one of the best snorkelling and diving locations on the reef, famous for its unspoilt coral reef and an amazing array of marine life.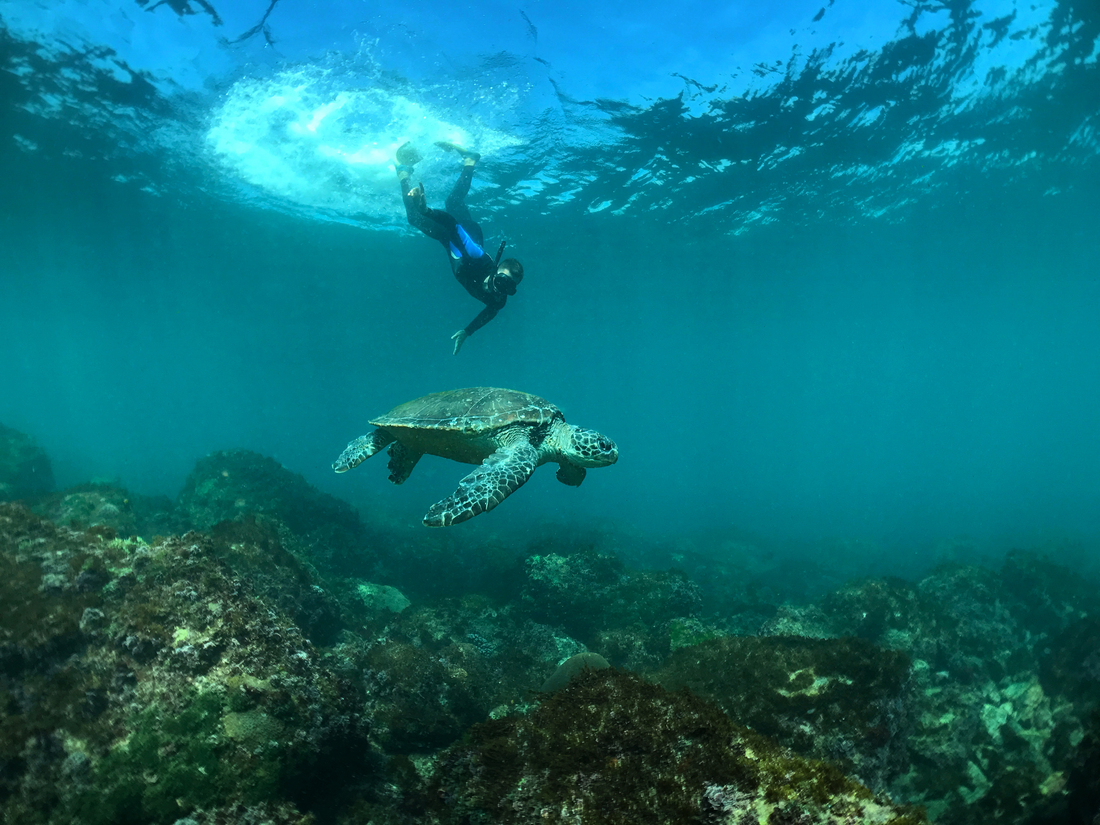 Hydrofoiling
If you haven't heard about hydrofoiling you're about to learn about the newest water sport taking the Gold Coast by storm. It's kind of like a a magic carpet ride over water - smooth, soundless and in flow. Your hydrofoil is propelled by its own electric engine that you control with a wireless remote. Unlike kiteboarding, snowboarding, or skiing, the learning curve is far easier, with greater reward. With easy to follow technical tips and personalised coaching, anyone can get the hang of it, and once you do, you'll be hooked. This unique experience is available on the Broadwater with Fliteboard Gold Coast or on Currumbin Creek with eFoil GC.
Breakfast With A Koala
Bet you've never had a breakfast date like this before! Wake up the right way and share your morning meal with a koala at Currumbin Wildlife Sanctuary. Tuck into a gourmet breakky spread while the park's koala keepers educate you on these iconic Aussie animals and the conservation projects they're part of. Plus you'll get a koala cuddle and a professional photo to capture the cute moment you meet one of these lovely locals.
New Places To Stay
From retro hotels to the ultimate 5-stars stays, tiny homes surrounded by nature, cabins on country estates, holiday apartments or a creekside campsite, check in to the kind of accommodation that suits your style.
The Langham Gold Coast
Taking advantage of its absolute beachfront location in Surfers Paradise, The Langham is the epitome of luxury. Choose from a variety of supremely appointed rooms and suites, many boasting views and balconies (and bathtubs!) that take in the coastline, horizon and ever-changing ocean. With a variety of premium venues onsite for dining and drinking, The Langham has set the bar high - the seafood buffet at the hotel's main restaurant, Akoya, is a fine dining feast. And what better way to spend a sunny afternoon relaxing poolside sipping drinks from the swim-up bar?
Tessa's on the Beach
Adding a touch of Palm Springs style to the Gold Coast, Tessa's On the Beach in Bilinga is a 20-room beachside motel that has been renovated and designed to pair classic California vibes, with a modern Australian edge. Guests can enjoy a magnesium pool complete with deck chairs for maximum sun soakage, plus bike and paddle board hire for when you feel like getting active. Choose from terrace, beach view or poolside rooms, all of which are decked out in a modern-retro style and rest easy knowing there's an array of world-class eateries and bars just a short drive away.
Dorsett Gold Coast
The arrival of The Dorsett, encompassed within The Star's entertainment precinct, opened up a new level of service and sophistication for Gold Coast. The brand new rooms are elegantly designed with sleek finishings and everything you need for a seamless stay. It's just a short stroll to shopping mecca, Pacific Fair, with all the dining and entertainment options of Broadbeach right across the road. That said, you might just want to claim a sun lounge at the exclusive Isoletto Pool Club to sip, dip and spritz.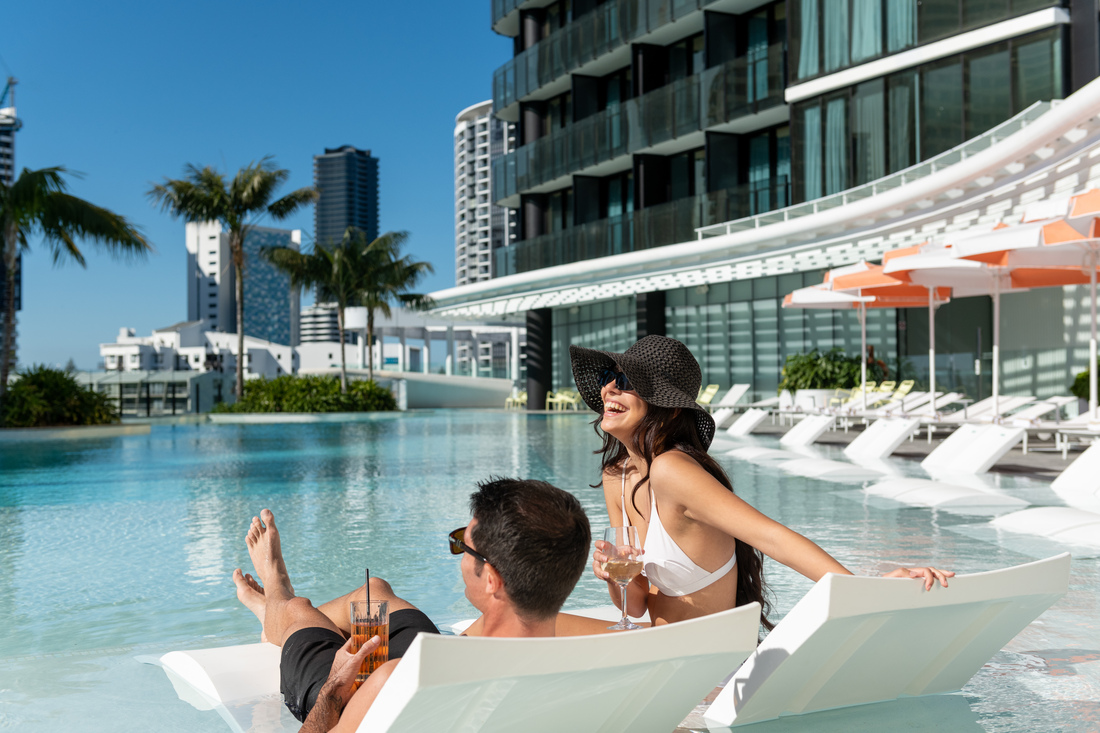 The Isoletto Pool Club at The Dorsett
Binna Burra
The new Tiny Wild Homes at Binna Burra are tiny houses perched on the edge of an escarpment overlooking the hills and gullies and endless green expanse of Lamington National Park. You'll have front row seat to this spectacular vista from your bed, deck - anywhere in this cozy accommodation. A hinterland hideaway that offers the chance to be completely immersed in the beauty of nature and the peace it provides (5am wakeup calls from the kookaburras notwithstanding).
QTqt cabins
Quirky design hotel, QT, has been a firm accommodation fave for years but their new qtQT Cabins offer a truly unique stay in a rooftop setting where luxe and laid back are perfectly paired. Featuring soft textiles and lived-in linens, your private perch is styled with eclectic decor and designed for creatures of comfort. Your VIP experience includes exclusive curated experiences like cocktail making or complimentary rooftop yoga. Of course, all of QTs amazing restaurants are close by, as is their sublime pool precinct, The Spring.
Verandah House Country Estate
Featuring eight designer suites, each with individual flair, this country-style boutique hideaway is perfect for a romantic getaway, a solo escape, or a relaxing weekend away with friends. Offering incredible views of Mt Warning, Green Cauldrons and the ocean, Verandah House Country Estate is more than an accommodation but a place for rejuvenation with their cedarwood hot tub, infrared sauna, wellness experiences and spa treatments. Guests can enjoy massages, facials and if you're up for it - a reiki healing and tarot reading too.
Beechmont Estate
This stunning country retreat offers peace and privacy in beautifully styled cabins that look out onto rolling green hills. With impeccable interiors and private a outdoor deck, each cabin is a secluded haven of comfort. Unwind in the natural beauty of Beechmont, and savour fine dining at the onsite Paddock Restaurant when you can taste the region's finest and freshest ingredients, sip a drink on the sunset terrace and relax in 5-star luxury.
Culture & Events
HOTA Gallery
HOTA (Home of the Arts) is the Gold Coast's go-to destination for all things arts, creativity and entertainment, and the main attraction is the impressive $60 million art gallery - with it's brightly coloured exterior, it looks like a work of art itself. This is a gallery for the people – inclusive, inspiring and in true Gold Coast style, you're welcome to visit in board shorts and thongs if that's your vibe. There's an incredible Children's Gallery with interactive exhibitions and craft activities, five levels of visual art to explore, with the top level home to an exquisite rooftop bar, The Exhibitionst. Enjoy a cocktail with sweeping views of the city spread out below, pretty as a picture. Pop Masters: Art from the Mugrabi Collection, New York is showing at HOTA until June 4, 2023. This blockbuster exhibition invites you into the world of iconic artists Andy Warhol, Keith Haring and Jean-Michel Basquiat, with a collection of works never before seen in Australia.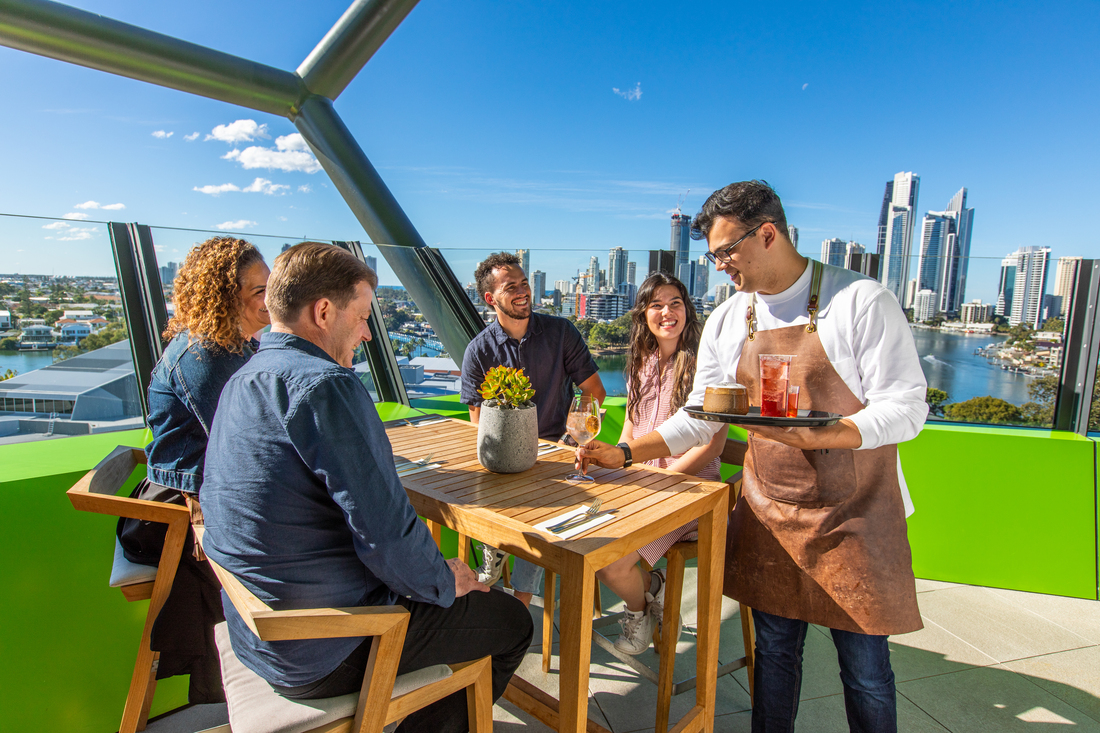 Free Music Festivals
Love live music? So do we.. especially in the great outdoors and that's something the Gold Coast does exceptionally well. Our sublime sub- tropical climate and uique open air venues make for a magical musical experience. There are some epic multi-day music festivals held in our seaside city and the best bit? They're all free! Blues on Broadbeach takes over the streets and parks of the central suburb for three days over May. Country music fans flock to Groundwater Country Music Festival in October. And the younger crowd gather on the sands of Surfers Paradise for Springtime GC - a celebration of local and Aussie acts.
Gold Coast Motor Museum
Even if you're not much of a motorhead, you'll be fascinated by the stories held within the walls of the Gold Coast Motor Museum. Over 70 cool, classic cars and bikes are all meticulously restored and you'll find everything from Holdens and Lamborghinis alongside relics from the past and amazing collections of memorabilia. Set on 12 acres overlooking a stunning hinterland location with Stanley's Barn Restaurant & Bar in a rustic barn right next door - the perfect spot for a relaxed lunch overlooking the Coomera Valley.
Gold Coast's Dining Scene
A slew of exciting new Gold Coast restaurants and venues have swung open their doors ensuring our vibrant dining scene is constantly evolving. From Burleigh's perennially popular rooftop bars to communal eateries in Palm Beach, fine dining at Broadbeach and reinvented venues in Surfers Paradise, we're getting a reputation as a foodie destination. Tuck into Gold Coast's gastronomic offerings and sample some of the finest dining and local flavours.
Food With A View
If you enjoy some stunning scenery to admire while you enjoy a meal, then you've come to the right place. The Gold Coast boasts some incredible waterfront venues where you can hear the waves crashing on shore and watch the sunset with your supper. Tommy's Italian and Hyde Paradiso boast ocean views and so do the surf clubs that dot the coastline. Restaurants like Edgewater Dining & Lounge Bar and Currumbin RSL have prime position on the banks of picturesque waterways and head up to The Polish Place or St Bernard's Hotel in the Hinterland for elevated views beautiful landscape.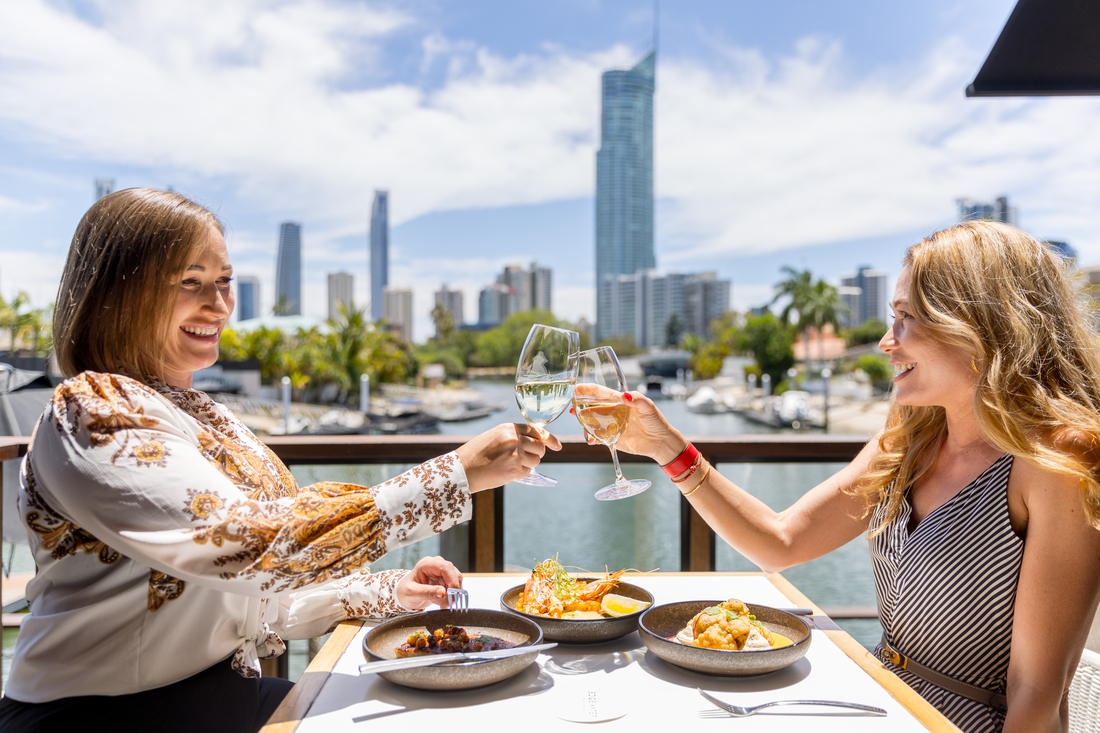 Fine Dining
Hospitality is something the Gold Coast does brilliantly and while fish and chips were once the kind of fare you could expect, the bar has been well and truly raised. There are now 23 hatted restaurants in our city (chefs hats are awarded by the Australian Good Food Guide for consistent culinary excellence), incredible waterfront venues (al fresco is our specialty) and so many well-reviewed eateries you'll be spoiled for choice. Some fine dining favourites include Social Eating House and Orzo in Broadbeach, Uncle Su and Kiyomi at The Star, and The Tropic or Rick Shores and La Luna or Glass Dining at Marina Mirage.
Caf

é

Culture
Coffee is so much more than – it's a way of life! The Gold Coast's coffee scene sets the bar high, with brilliant baristas slinging flat whites, frothy lattes and long blacks on the daily. Burleigh, Miami and Mermaid have many excellent cafés where you can get your morning brew, and there are some epic bakeries serving up next level pastries, cakes, cookie and sweet treats that make for an epic morning tea.
Fresh Foodie Finds
If there's one thing the Gold Coast food scene has embraced wholeheartedly, it's the ritual of the weekly farmers market haul. With small-scale and expansive markets dotted all over the Coast every weekend, there's endless opportunity to browse, sample, taste, admire and shop everything from fresh produce to baked goods, artisan bread, fresh flowers, specialty coffee, homewares and wholefoods. If you're on the southern end of the Coast, try Palm Beach Farmers Market or the Burleigh Farmers Market every Saturday from 6am – 11.30am and 7am respectively. On the northern end there are also options aplenty, with the popular Marina Mirage Farmers Market taking place every Saturday from 6.30am, or the HOTA Farmers & Artisan Market at Home of the Arts (HOTA) drawing a crowd every Sunday from 6am. For the freshest seafood straight off the boat, visit the Fishermen's Co-op on The Spit.
No matter how many times you visit the Gold Coast, you'll always discover a new experience. Need some more holiday inspo? Head here.
ACKNOWLEDGEMENT OF COUNTRY
Destination Gold Coast acknowledges the Traditional Custodians of the land on which we are situated, the Kombumerri families of the Yugambeh Language Region.

We pay our respects to their Elders past, present and emerging, and recognise their continuing connections to the lands, waters and their extended communities throughout Southeast Queensland.