The name of our central suburb sums it up. The fabled point breaks and consistent beach breaks of the Gold Coast are nothing short of a surfer's paradise. Our hallowed stretch of coastline has been attracting board riders from across the globe for decades. This wave-drenched destination was awarded World Surfing Reserve status in 2016 and a few famous locals have taken their turn on the world's pro surfing stage. With learn-to-surf schools scattered across the suburbs and kids learning the skill as soon as they can walk, surfing is in our DNA.
Maybe you've heard the names or seen the pictures — but getting around and surfing these breaks sometimes isn't as easy as it looks. And if you're still perfecting your pop-up and wave prowess, you'll want to ensure you're hitting the right place and getting optimal conditions. Read our run down of the best surf spots on the Gold Coast south to north.


Durranbah
On its day, 'D'bah' can produce mesmerising and ridiculously good beach break surf whilst the rest of the coast might be under a complete flat spell. The reason? Its location on the very southern end ensures it catches every ounce of energy from our regular southern swell patterns. Tending to produce punchy and hollow waves, the conditions are often more powerful than they look. Avoid high tide and paddle out from the southern rock wall for an easy ride to the lineup on an ever-present rip.
Snapper Rocks
The one and only: a proving ground for local talent and the home of the Gold Coast Pro. You can expect a crowd battling for position on some of the best-groomed sand bottom point righthand waves you'll ever see. Sure, it can be challenging at times, but when you wait your turn and snag yourself a good one, you'll begin to understand the allure!
As this break can hold anything from waist-high to double overhead bone-crunching barrels, be sure to match the setting with your ability and show other surfers respect in the lineup. Your entry is from the small walkout keyhole - expect the current to pull you northwards on the bigger days.
Greenmount
Situated at the northern end of Rainbow Bay, this one has two very different faces. On the bigger days, you find overhead hollow walls that can stretch as far down to Kirra, creating the mythical wave machine known as the 'Superbank'. On the smaller days, you'll come across dreamy and easy-going longboard waves, which are ideal for learners and always draw a mellow early morning crew. When it's small and clean, grab something longer and take it easy with the locals.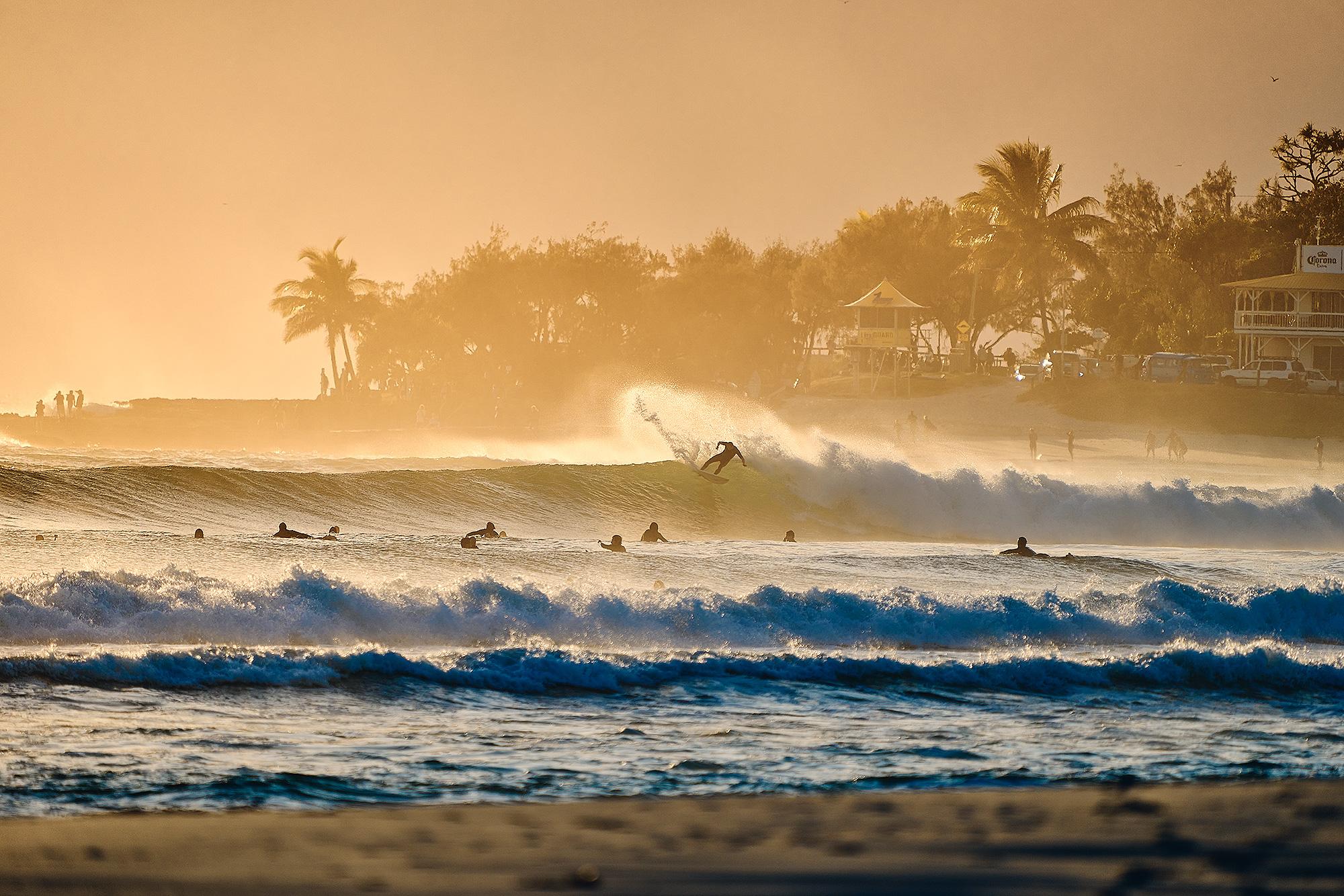 Kirra
When the sand is right and large south/south-east swells awaken Kirra, you can expect to see some of the world's best tube riding. On these days, jet skis buzz the lineup, so extreme caution and experience are needed. You may only end up getting one wave, but it could be the wave of your life. The rest of the time, Kirra is generally a slower wave and a relaxed spot for a medley of surfers, bodyboarders, and foilers looking to ride waves minus the crowds of Rainbow Bay.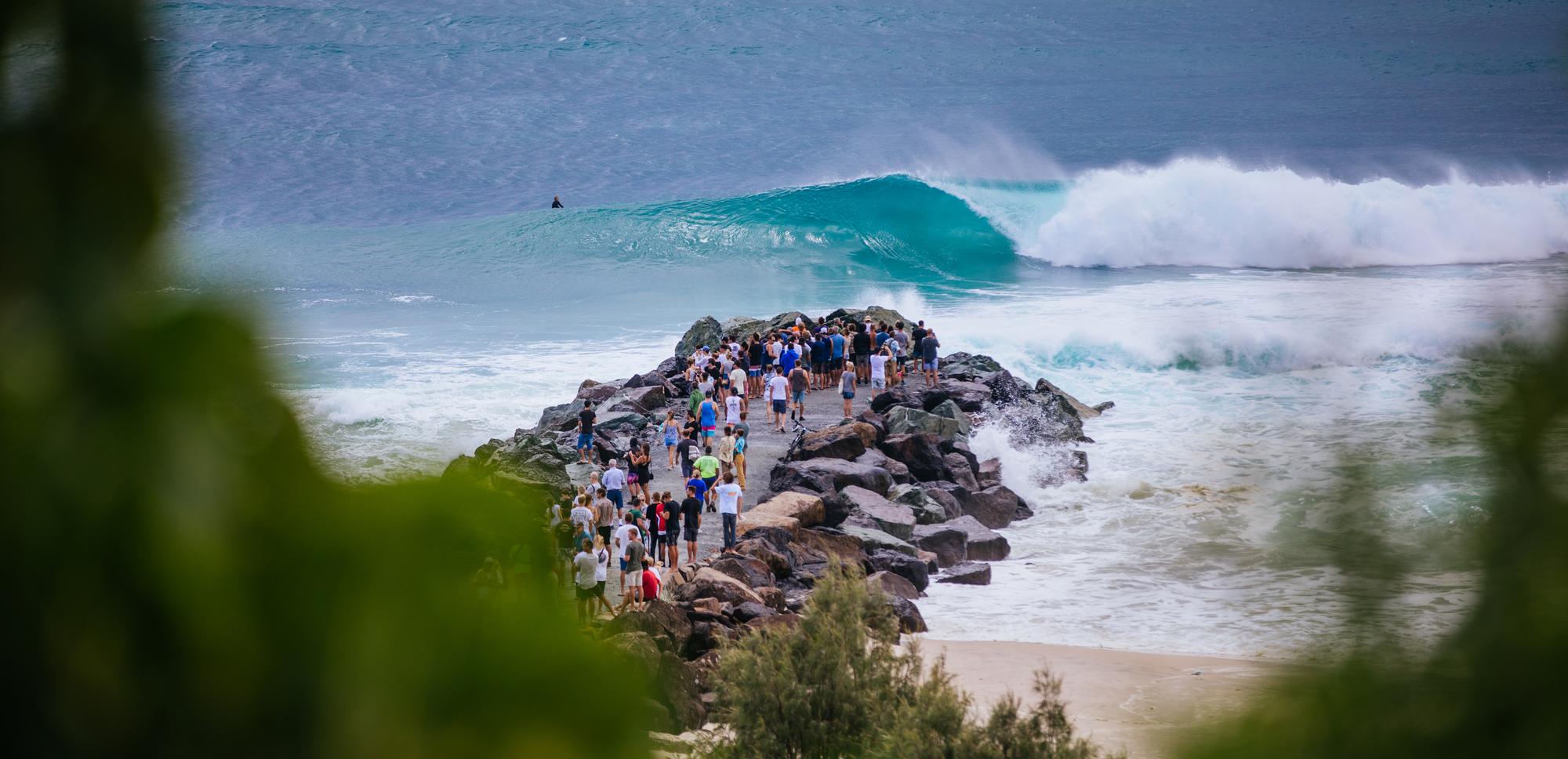 Tugun
If conditions are right, you could touch down at Gold Coast Airport and be submerged in saltwater at this little southern suburb in no time. A longer stretch of beach with various banks, the best advice is to turn up and see what's working. It can handle a little bit of south wind; however, a westerly breeze will produce groomed surf. And if the surf's not up, you can always grab yourself great food and coffee at their nearby cafés.
Currumbin Alley
Drive a little further and you'll find yet another world-renowned sand bottom right-hand point break. Aren't we spoilt?! The mouth of Currumbin Creek winds its way past the iconic Currumbin Rock and constantly creates pockets of sand whilst eroding deeper channels. Not so great on a higher tide and, like much of the Gold Coast, falls apart with any sort of northerly or easterly wind.
That said, the break comes to life on a 1m+ plus swells out of the south east. At low tide, you can take off from beside the rock and catch some advanced sections for fast manoeuvres before it goes into deeper water — kick out here — and waiting long-boarders will take over and cruise further down the line towards Palm Beach. A very popular spot on the weekend and any sort of holiday/school period, but nonetheless a beautiful place to spend some time.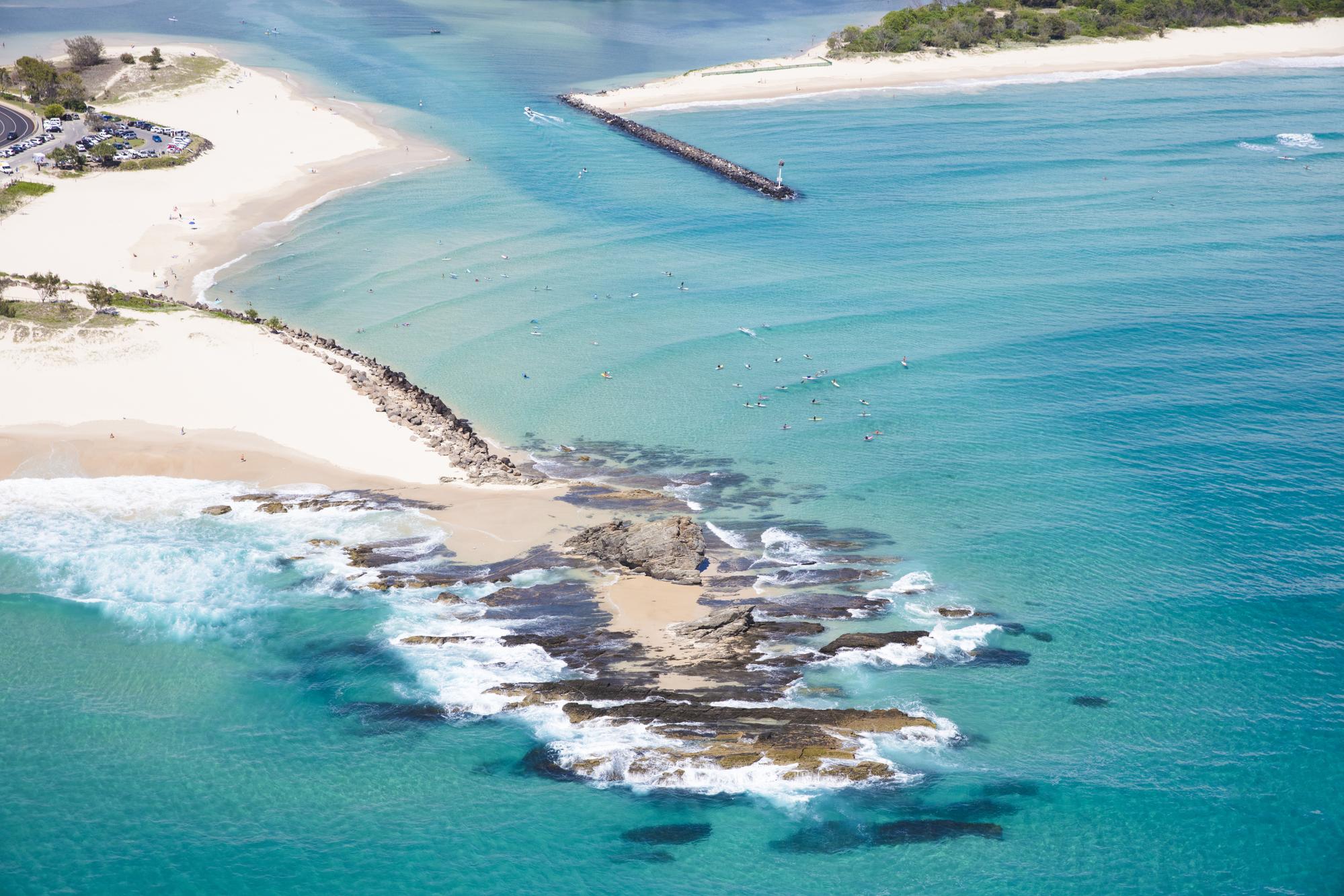 Burleigh Heads
Regular footers rejoice! On its day, Burleigh Heads will give you waves and a view you'll likely never forget. If going out from the point, take the walking path and watch a local for the best place to jump off the rocks — remember, patience and timing are everything. You can also access the small cove just off the walking path, and after a short scramble across some rocks, this presents a more accessible option. A rising mid tide is safer as rocks are present here, further round to the inside and in front of spectators sitting on the hill, though, you'll get away with the lower tide where fast racetrack sections and sneaky little cover-ups are the best place to show off your skills.
Mermaid Beach
The options are endless here. With a vast stretch of beach for sandbanks and gutters to form, the best advice is to make sure the wind is light and look to see what is working. Early mornings in Autumn and Winter, Nobby's Beach through to Broadbeach comes alive with empty peaks and crystal-clear water — find an uncrowded bank and enjoy.
Surfers Paradise
One of our busier sections of beach and where you can still paddle out and catch some waves at most points of the tide. In transparency, you won't come across the Gold Coast's best surfing spot here, but it's a great place to give it a go, get wet, and then relax back on the sand before enjoying the local shopping and eating-out scene!
South Stradbroke
Located just across the Spit at the Broadwater and colloquially called Straddie or TOS (The Other Side), South Stradbroke Island is a constantly changing sand island that, when the circumstances are right, produces mighty beach break A-frames. Often larger than the rest of the coast, this vast stretch of beach provides a barrel fest for those who like to lock time in the tube. Even on smaller days, you'll come across perfectly shaped shoulders and tuck-ins for solid intermediates and more advanced surfers.
Better on a rising tide, Straddie truly comes to life in the colder months where persistent offshore winds keep things clean. Getting there can be a little tricky, but once you've experienced your first wave, you'll no doubt agree it's worth the paddle!
ACKNOWLEDGEMENT OF COUNTRY
Destination Gold Coast acknowledges the Traditional Custodians of the land on which we are situated, the Kombumerri families of the Yugambeh Language Region.

We pay our respects to their Elders past, present and emerging, and recognise their continuing connections to the lands, waters and their extended communities throughout Southeast Queensland.