Public Transport for All
Most of our buses, trains, trams, and ferries are easy to use for people with wheelchairs or scooters. If you plan to take a trip, please contact Translink first to make sure there is a spot for your wheelchair or scooter.
If you use a wheelchair or scooter, you need to make sure it is the right size and weight. There are rules about this in the Disability Standards for Accessible Public Transport 2002. Translink also have a guide to help you when travelling with your wheelchair or scooter.
Buses
Most of our buses are easy to use for everyone. There are some older buses, but we're in the processes of replacing them with new buses. The new buses have a low step to get in, a ramp and dedicated space for wheelchairs and scooters.
Busway Stations
Busway stations have lifts, pathways and ramps. These stations are easy for everyone to use. They also have tactile bumps on the ground to help people who can't see very well. If there is an emergency, there are hearing loops at busway stations.
Trains:
You can bring your wheelchair or scooter on all our trains. Every train has dedicated spaces for wheelchairs and scooters in the middle carriage. To use these spaces, wait at the spot with a white wheelchair sign on a blue background painted on the ground. This spot is in the middle of the platform. Our team will put a ramp down for you to get on or off the train. Every carriage has seats near the door for people with a disability, older adults, pregnant people, people with injuries, and people travelling with young children.
Train Stations:
Different train stations have different things to help you. Many stations have lifts and ramps. They also have tactile bumps on the ground and hearing loops to help people who can't see or hear very well. You can visit the Queensland Rail website to see what each station has, including accessibility maps.
Trams:
You can bring your wheelchair or scooter on all our trams. Each tram has a space at the front and back for wheelchairs and scooters. Wait at the front of the tram, and the driver will put down a ramp for you.
Tram Stations:
Each tram station has two dedicated spots to help you get on. They're marked with a blue sign with a wheelchair symbol. The platforms also have special bumps on the ground to help people who can't see very well.
Taxis
You can bring your wheelchair or scooter in accessible taxis. But for safety, people using scooters need to move to a fixed seat.
Train, Tram and Bus Information
Airports
There are two airports from which you can access the Gold Coast. These are Gold Coast Airport in Coolangatta on the Gold Coast, and the other is Brisbane Airport. Brisbane Airport is about an hour drive or train ride from the Gold Coast.
The airport is a place for everyone, even if you have a disability. The airport has three levels, and lots of things to make your visit simple and enjoyable.

If you have a disability or need extra help, tell the people where you book your flight. They will plan to give you the help you need at the airport and on the plane. Always try to get to the airport a lot of time before your flight leaves.

There are parking spots at the airport that are just for people with disabilities. You can see them easily and they are in every place where anyone can park at either Gold Coast Airport or Brisbane Airport. You can park there if you have a permit for disability parking. There are ramps to help you go from the parking lot and the street to the sidewalk and into the airport building.

The airport has bathrooms that are easy for everyone to use. There are braille & tactile signs throughout the terminal. If you need a wheelchair, your airline can give you one. If you need help, ask one of the friendly people at the airport.

If you have trouble hearing, there is a hearing loop system in the terminal to assist you. There are also Flight Information Display Screens at both airports.

Everybody who flies has to get checked by security. If you need help with the security check, tell the security people. If you use a wheelchair or need help moving, security will check you with a scanner you can hold in your hand or they may need to touch you to check you. They will ask you if this is okay first. If you want, you can ask to go to a room where other people can't see for this.
There can be a bit of waiting at the airport before you finally settle into your airplane seat. That's why there are plenty of places for you to sit down and relax throughout the Terminal.

We've got dedicated seats set aside for passengers with disabilities, those with limited movement, as well as passengers with young kids and unaccompanied minors. You can easily spot these seats - they have the accessible symbol on their headrests.

The airports wants to make sure all customers can travel without any problems, even passengers and guests with a disability. They each have a Guide for Accessibility that tells about the services and help for passengers who need accessibility.
Both airports have areas for toileting assistance animals.

Gold Coast Airport has a program called AmbassaPAW where therapy dogs help make travel less stressful.
The dogs usually come on Tuesday and Wednesday at these times:
Gary: Tuesday 8am-10am
Quincy: Wednesday 7am-9am
Gold Coast Airport Information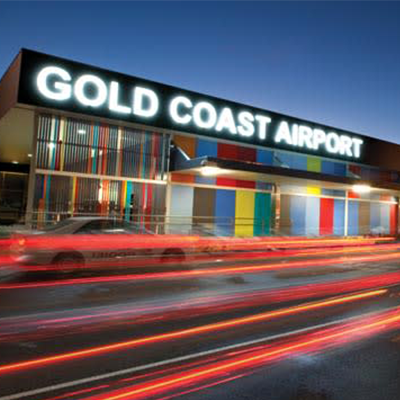 Gold Coast Airport Accessibility Guide
A guide for all members of the community, including passengers and visitors with a disability, which addresses all aspects of accessibility at Gold Coast Airport
GCA Accessibility Guide
Hidden Disability Program
Information including sensory maps, social stories, AmbassaPAW program and other information
GCA Hidden Disabilities
Brisbane Airport Information