Over the last year the Gold Coast food scene in particular absolutely exploded with epic new venues opening left, right and centre to the delight of both locals and visitors who don't seem to mind a tasty feast or two (guilty).
Not only new food venues though, the Coast has also seen the introduction of a few new experience-based spots that have taken our good-time levels through the roof.
Because we understand it may have been hard to keep up with it all, here are a few newbies you may have missed over the past few months but should introduce yourself to as soon as possible.
MR PP'S DELI AND ROOFTOP BAR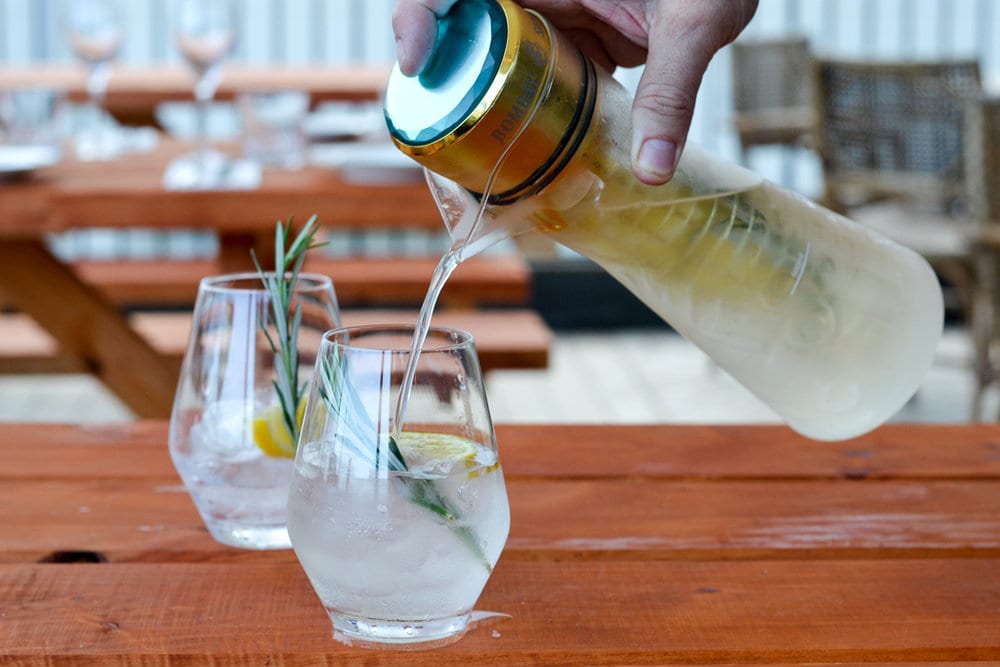 First of all, a venue offering both a deli filled with cheese and a rooftop bar filled with cocktails should be awarded some sort of prestigious honour if you ask us. Surprise, Mr PP's does exactly that with views over the city and good time vibes aplenty. It was Southport's first new rooftop bar and since its inception the venue has gained quite the loyal following due to the pizza and charcuterie board filled menu and aforementioned deli and cocktails. Not only that, the sweet space was named after the Coast's first postman who lived in the building from 1909. Love it.
Where: 43 Nerang Street, Southport
BUBBO DESSERT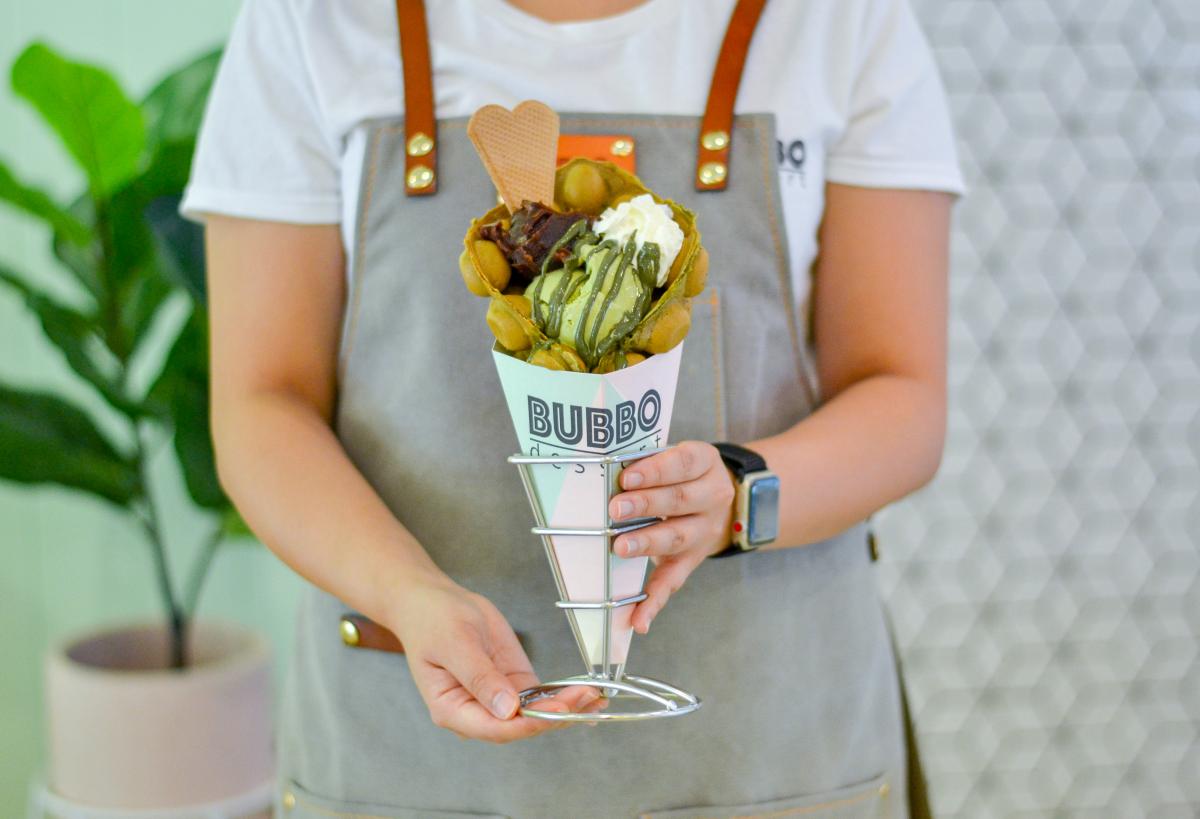 Step aside ice cream and Milo lovers, a new dessert is here to change your life and it comes in the form of a bubble waffle in a cone type situation and topped with all the sweet things that'll blow your dessert-appreciating mind. For example, 'The Devil' at Bubbo is a chocolate waffle that is filled with chocolate chips in the bubble pockets, chocolate ice cream, Tim Tams, chocolate flakes, topping and Nutella and oh man, heaven. The space is also one of the most Insta-worthy around with pastels and neon and cute art all perfectly curated to delight your eyeballs.
Where: Shop 10, 2 Elkhorn Ave, Surfers Paradise
HOLEY MOLEY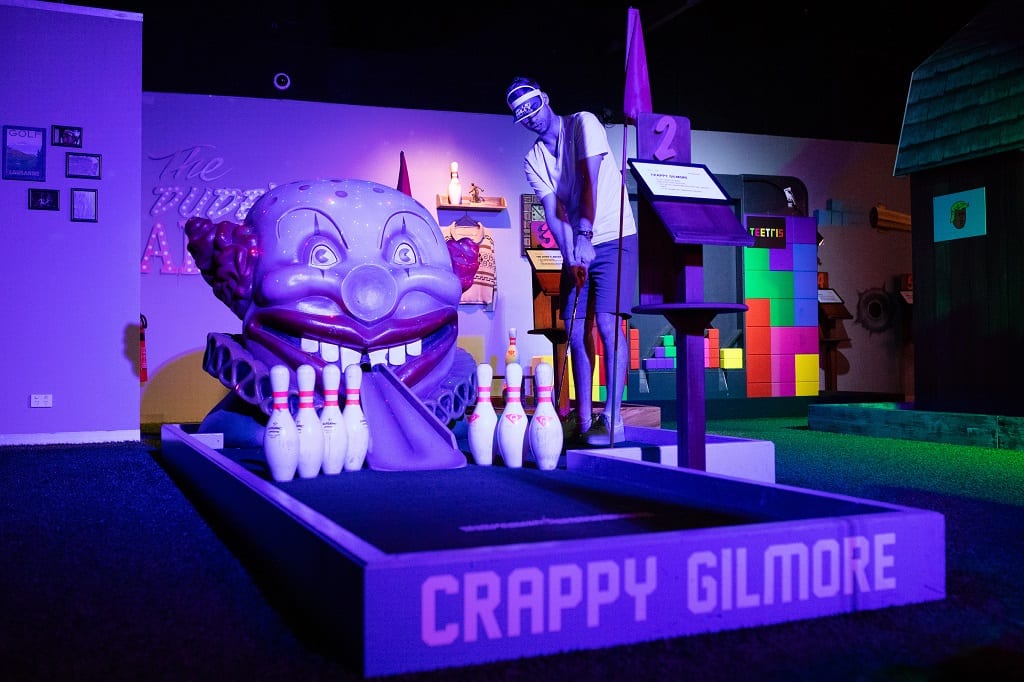 Hello mini golf with a side of cocktails. Not to mention a Simpson's Couch just begging for bulk photo opportunities. What more could one want from Surfers Paradise? Nothing that's what. Holey Moley opened it's new putt putt course to rave reviews due to their bar, The Caddyshack, and themed holes like '727 Evergreen Terrace' and 'The Dude's Abode' which is set up like the Dude's room from The Big Lebowski. A second bar rolls around so you're never left thirsty and there's a karaoke room for when you're all golfed out but full of cocktails and keen for a little more fun. Best. Time. Ever.
Where: Strike Bowling, Circle on Cavill South Tower, 3200 Surfers Paradise Blvd, Surfers Paradise
FUFU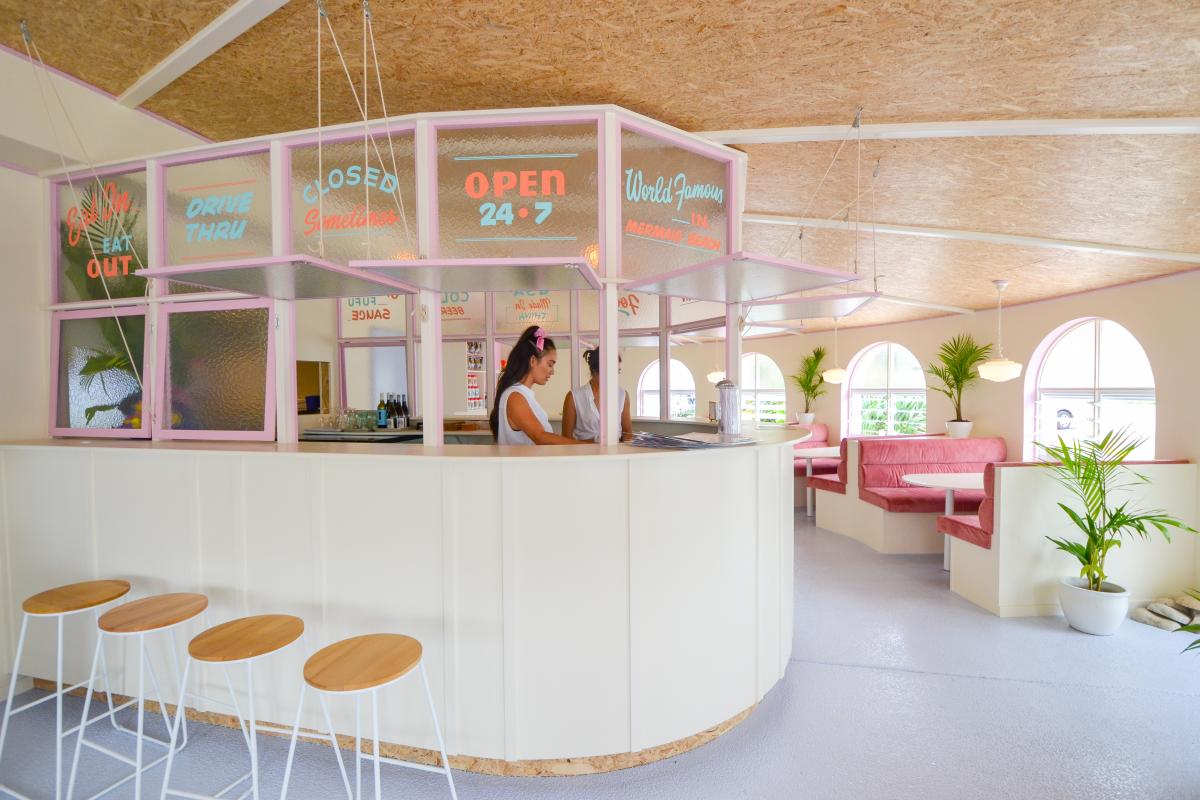 Mermaid Beach is not only the prettiest name for a suburb ever (just quietly), it is also home to one of the prettiest eateries around – FuFu Chinese Diner which is indeed as fun as it sounds. With pink velvet booth seating, greenery galore and some of the sweetest wallpaper around, you'll fall in love with FuFu before you even sample the food. It's known as a Chinese-American diner and there are dishes like Cheeseburger Spring Rolls and BBQ Pork Mac N Cheese, honestly. There aren't enough words for the levels of goodness here.
Where: 2375 Gold Coast Hwy, Mermaid Beach
ALLY CHOW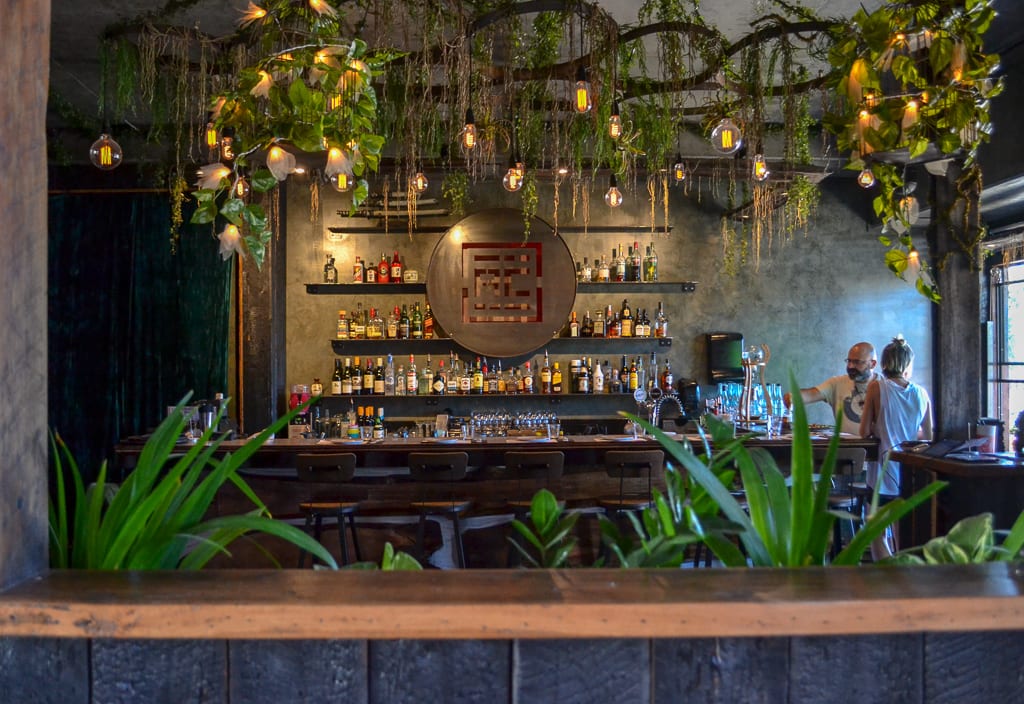 Nobby Beach has long been known as a cool little suburb with a big heart and now it can add next-level foodie destination to its credentials. One of the most recent additions is Ally Chow, an incredible space with even more incredible eats. The interior reminds us of Alice's wonderland, all hanging plants and low-lit moodiness. Outside in the alleyway, a beautiful mural depicts traditional Japanese village life. Too good. The menu is of the pan-Asian variety with punch-packing flavours loaded into unique but simple dishes and traversing a range of Asian cuisines. Share style food for the win.
Where: 2215 Gold Coast Highway, Nobby Beach
THE LC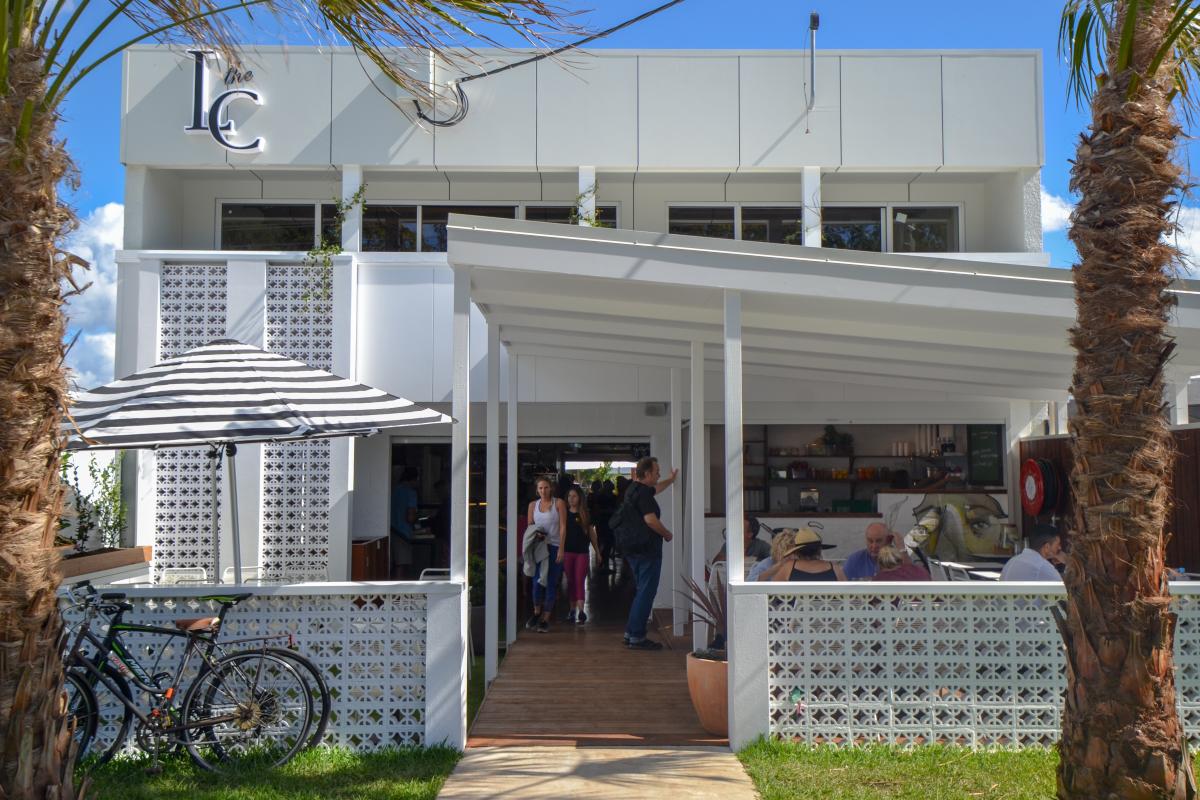 Foodie marketplaces are a gift from the Gods, there's no doubt about it. Several fresh new restaurants offering exceptional eats in the one space, can we move in please? One such marketplace is Miami's The LC. Which does in fact boast five food vendors all of whom are bringing the goods and all of whom have solely plant-based menus. From some of the best ramen around to some of the best pizza around, baked goodies, burgers and oh so yummy cocktails, we're calling it, The LC is the place to be for summer soirees in the sunshine. It's the first foodie destination of its kind in Australia and aren't we the lucky ones.
Where: 2176 Gold Coast Highway, Miami
IKU YAKITORI BAR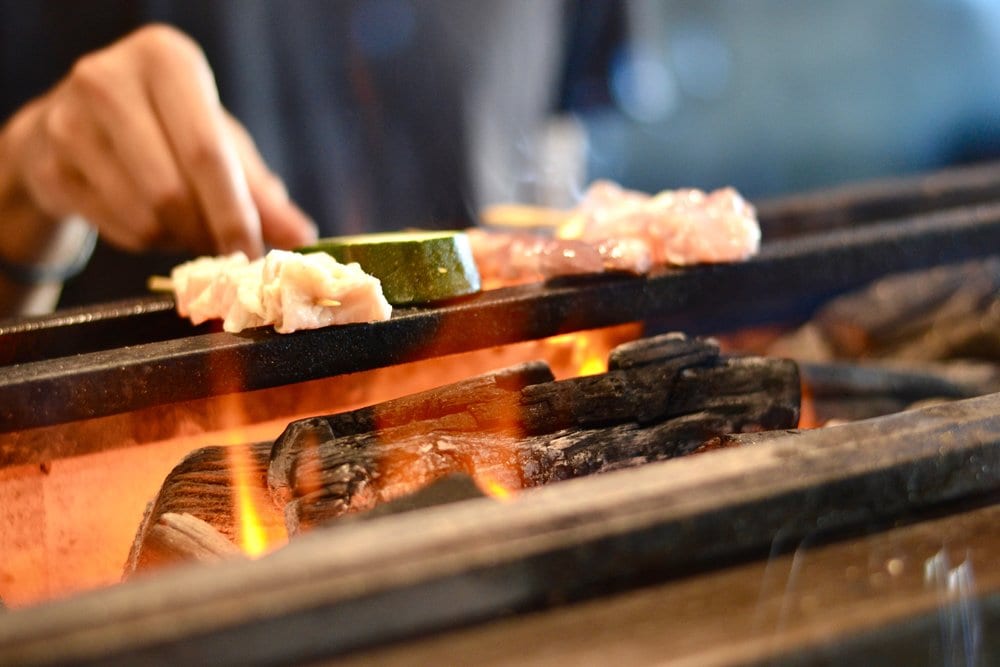 Big love for this Burleigh beauty. Iku Yakitori Bar is a sensory experience unlike any other with both taste sensation-style eats, an interior that dreams are made of and the sweet smell of charcoal wafting through the air. The menu is made up of chicken skewers primarily and no part of the bird escapes uncooked (skin included) but oh wow, is it delicious. Tenderloin, seafood and veggies are also stuck on sticks and delightful things such as edamame dip and raw fish should not be left uneaten. Pull up a seat in a floating railway sleeper booth and watch the chefs work their magic.
Where: 1730 Gold Coast Hwy (front entrance) or head in through the back on Justin Lane.
SWEET LOU'S SALOON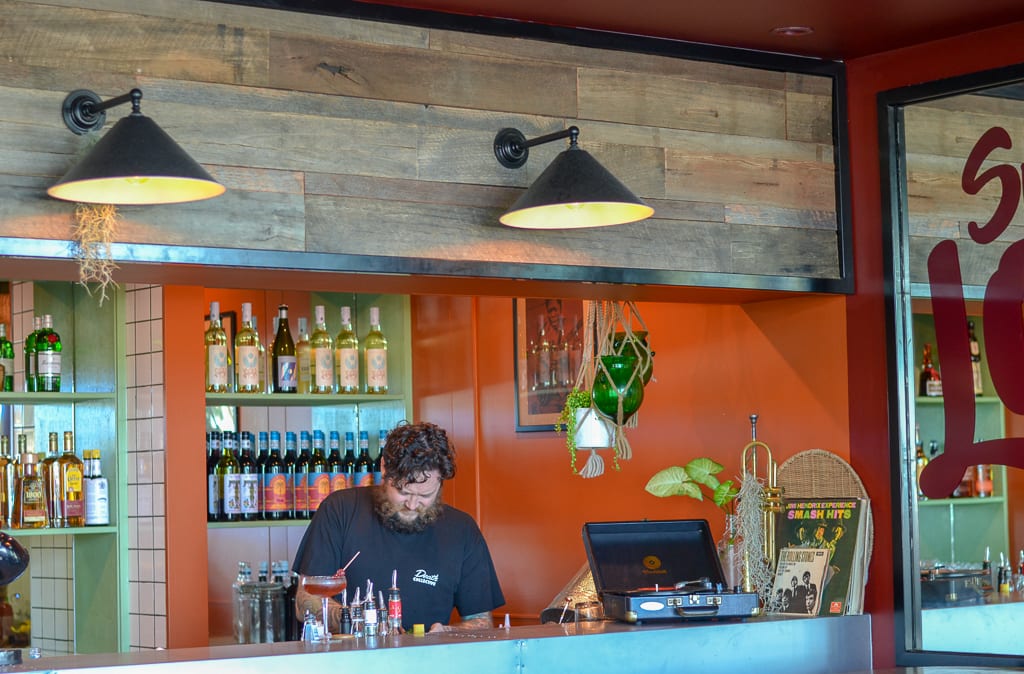 Bringing all those smokey, BBQ-inspired flavours you've come to know and love, Sweet Lou's Saloon moved into the easily accessible The Stand at Coolangatta to serve up new southern US-style dishes that are as mouthwatering as they come. It's New Orleans-esque grub of the (mostly) share plate variety along with southern-flavoured burgers, ribs of course, loaded fries – all the delicious bulking-for-summer things. Standouts include the Buffalo Cauliflower with blue cheese sauce (unless we've eaten it all) Chargrilled Corn Cobs with chipotle aioli and Mac n Cheese Croquettes with Jack Daniels glaze. Overlooking Coolangatta beach, there's salty sea breezes aplenty too. Best.
Where: Shop 2 The Strand, 72-80 Marine Pde, Coolangatta
LUMBER PUNKS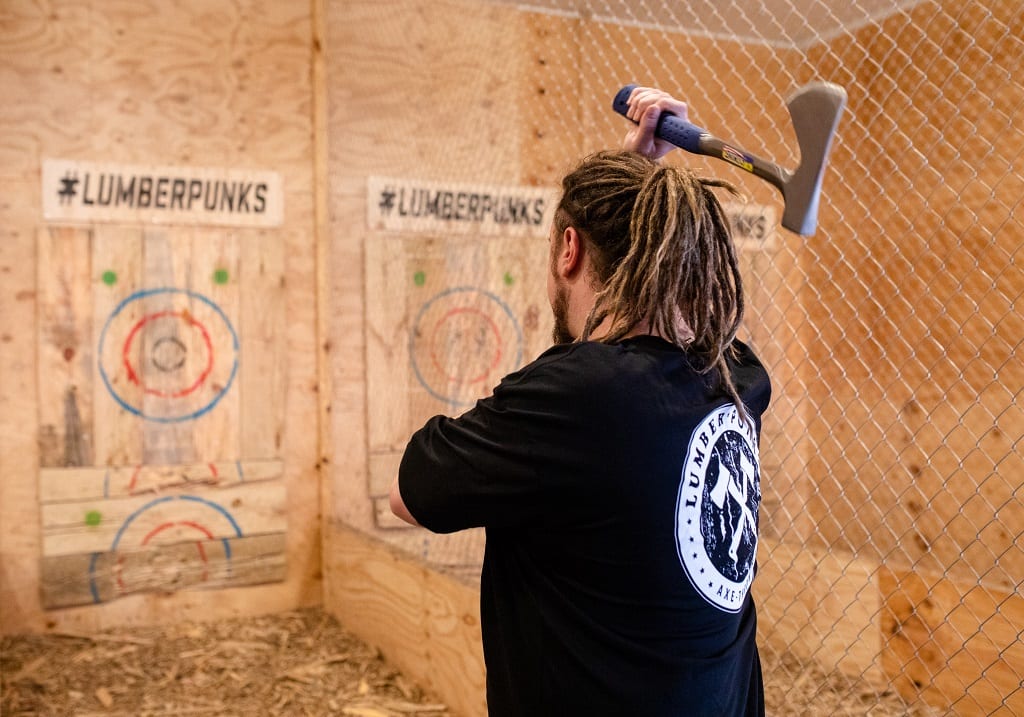 You know what's fun? Throwing axes (in a safe, supervised environment obviously). Which, as it turns out, is a thing you can do on the Gold Coast these days. What a treat. Lumber Punks opened a wee while ago and let it be known that axe throwing is not only very therapeutic, it is also one of the greatest group activities for bragging purposes alone. You start throwing the big daddy of axes and work your way down to the fancy, compact ones and getting those guys to land on the target (let alone get a bullseye) is not an easy task but because it's such a good time, you won't mind staying awhile to get it right. Gather the crew and get there ASAP, you're gonna love it.
Where: 19 Ozone Parade, Miami
ACKNOWLEDGEMENT OF COUNTRY
Destination Gold Coast acknowledges the Traditional Custodians of the land on which we are situated, the Kombumerri families of the Yugambeh Language Region.

We pay our respects to their Elders past, present and emerging, and recognise their continuing connections to the lands, waters and their extended communities throughout Southeast Queensland.