The vegetarian dining scene has flourished during the past few years, particularly on the Southern end of the Gold Coast. There's a growing awareness of provenance and sustainability, food education and healthier food habits.
Gone are the days when ordering a vegetarian meal drew the expectation of a plate of steamed vegetables or a green salad landing on your table. Nor is it just about tofu and tempeh. Now your dining preference may be vegan, lactose-free, 'Chinese-style' or even paleo (to name a few). The best vegetarian restaurants show us the importance of the freshest locally sourced ingredients, clever food combinations and excellent cooking techniques.
Here's a selection of vegetarian and vegan-friendly food establishments on the Gold Coast.
BLENDLOVE
Blendlove's reputation has been built on their specialty: raw wholefood cakes, in over twenty flavour combinations.
Beautifully presented, these little squares of goodness have won over the Gold Coast. There are some great salads and wholefood coming out of this café as well. Moreover, it's a really pleasant place to hang out with a friend for coffee and cake, or a light lunch.
What: Vegan
Where: Southport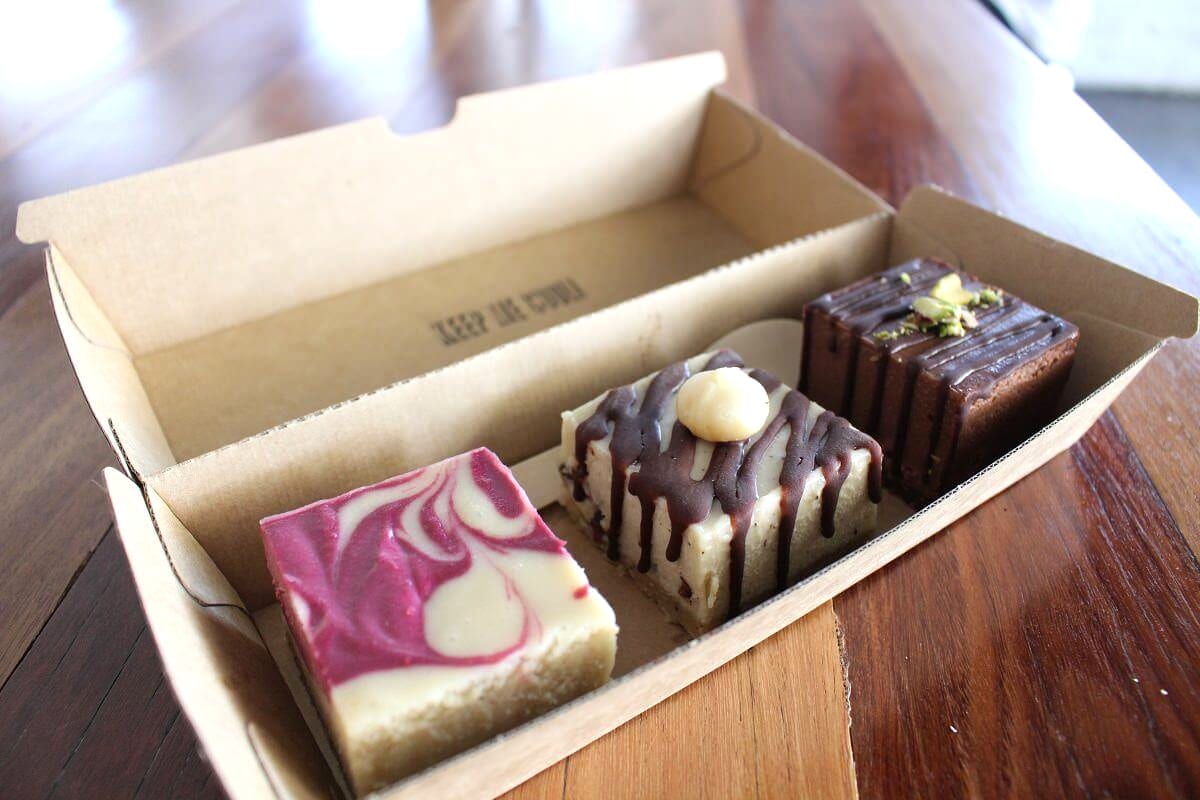 EASY HOUSE VEGETARIAN RESTAURANT  
Easy House serves some of the freshest, lightest dim sum found in Queensland. The barbecued pork rolls are cased in the softest flaky pastry, steamed mushroom dumplings contain an exquisite selection of tastes in the lightest rice skins. Although the menu sounds familiar to diners, it's both a vegetarian and vegan restaurant (no dairy, no eggs) and most of the dumplings are gluten-free. Mock chicken made from soy paste and mock beef formed from bean curd and mushrooms is subtly flavoured yet tasty and delicious. Yum cha is available all day, or you can choose from about twenty lunch specials. The dinner menu is extensive, with takeaway also available.
All the Hong Kong style food is made fresh daily and no MSG is used in the preparation. Part of a suburban shopping centre, this tiny shop fronts out to a car park. But what the restaurant may lack in ambience will soon be forgotten once you begin eating.
What:Vegan
Where: Mermaid
CARDAMOM POD
Cardamom Pod was the first vegetarian restaurant to open in Broadbeach. With its move to a new location facing the park, it is now our classiest vegetarian restaurant. From first glance, it's bright and colourful, yet warm and earthy. True to the beliefs of the Hare Krishna proprietors, its delicious food is prepared without eggs, garlic or onion. Bain-maries are full of samosas and pakoras, Thai and Indian curries, vegetables, polenta squares, lentil moussaka and crisp innovative salads alongside yummy raw desserts in the glass display cabinet. Cardamom Pod's weekend breakfast, cooked to order and brought to the table, takes their food to another level. It's a standout, and not to be missed. This is vegetarian food for the 21st century!
What: Vegan-friendly
Where: Broadbeach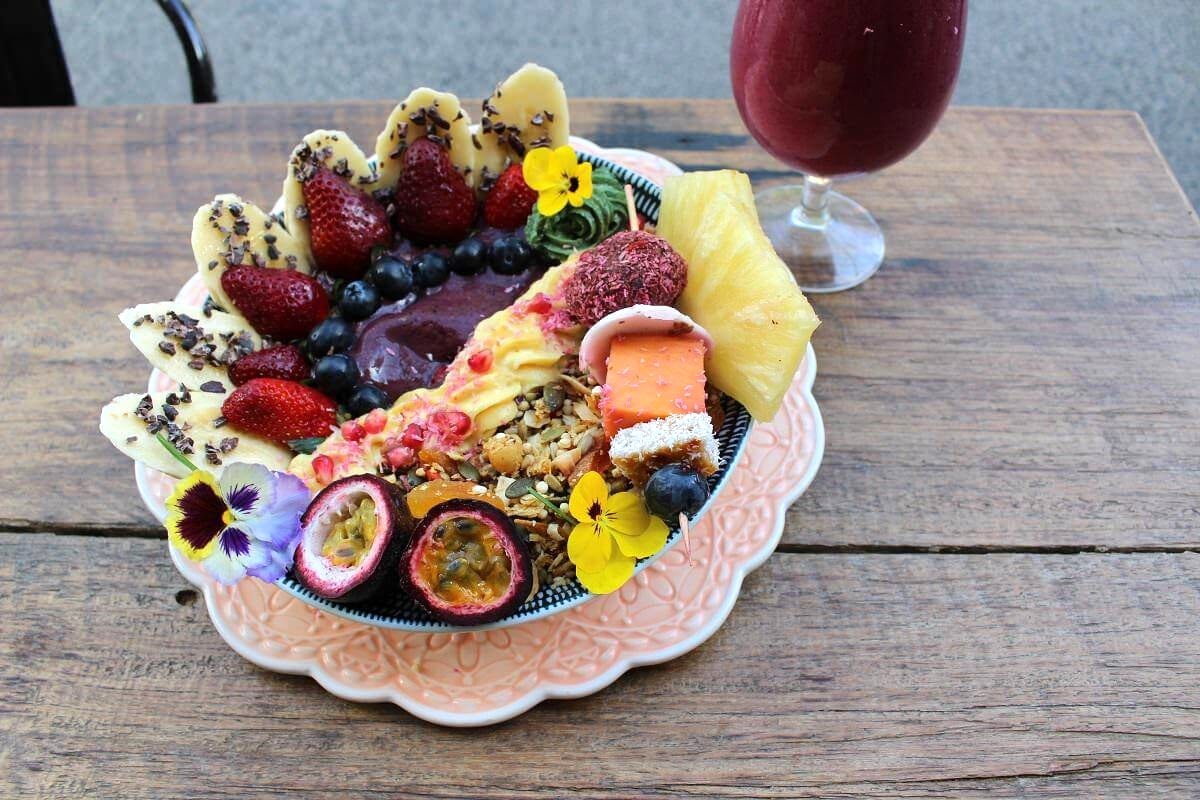 GIRI KANA CAFE 
Trying to find good healthy food on the Northern end of the Coast? Don't despair, because the Giri Kana Café is open. To Giri Kana, meaning 'food from goodness', Maha (Maryanne) had brought her wealth of vegetarian cuisine and philosophy. This inviting café under the H2O building opens its arms to us as a healthy haven, a pure vegetarian restaurant with lots of gluten-free and vegan options, as well as great organic coffee.
Maha, with son Haya at her side, is pleased to meet and serve guests in this private quiet oasis.
What: Vegan-friendly
Where: Southport
KUAN YIN TEA HOUSE 
Kuan Yin Tea House is one of only three Chinese-style vegetarian restaurants on the Gold Coast. The restaurant opened in May 2012, a simple lino-floored café with beige walls and feature panels of bamboo wallpaper, catering for the needs of vegetarians on the Northern end of the Coast. Being modest in décor and price, however, does not mean a lack of choice. There are several pages to the menu, divided into snacks (entrées priced below $7), 'meat' and rice sets, noodle dishes and soups, almost all under $10.  Drinks are featured separately – two whole pages listing milk teas, black and green teas, Taiwanese specialty teas and fresh juices. The photos on Kuan Yin's menu are a great guide to each dish's size and appearance. It's also clearly marked (in pink) which dishes are suitable for vegans, which are gluten-free and which include dairy or eggs.
The Vegetarian BBQ Pork Roll is absolutely delicious: a mix of sweet soy-based protein and salad wrapped in tender roti-like bread. Sour and spicy dumpling with soup is hearty and spicy, packed with vegetables and delicate melt in your mouth steamed dumplings filled with vegetables and tofu. There's Vegetarian Takoyaki, textured more like a compressed prawn ball than calamari, served with a sweet and sour sauce, as well as fried dumplings, parcels of soya bean meat, carrot and cabbage – a delicious lighter version of Gyoza. The Won Ton Noodle Soup is very popular, and kids love the Cheese and Vegetable Pancake. So much delicious food to choose from with a fantastic range of teas as well. Simply great food.
What: Vegan-friendly
Where: Southport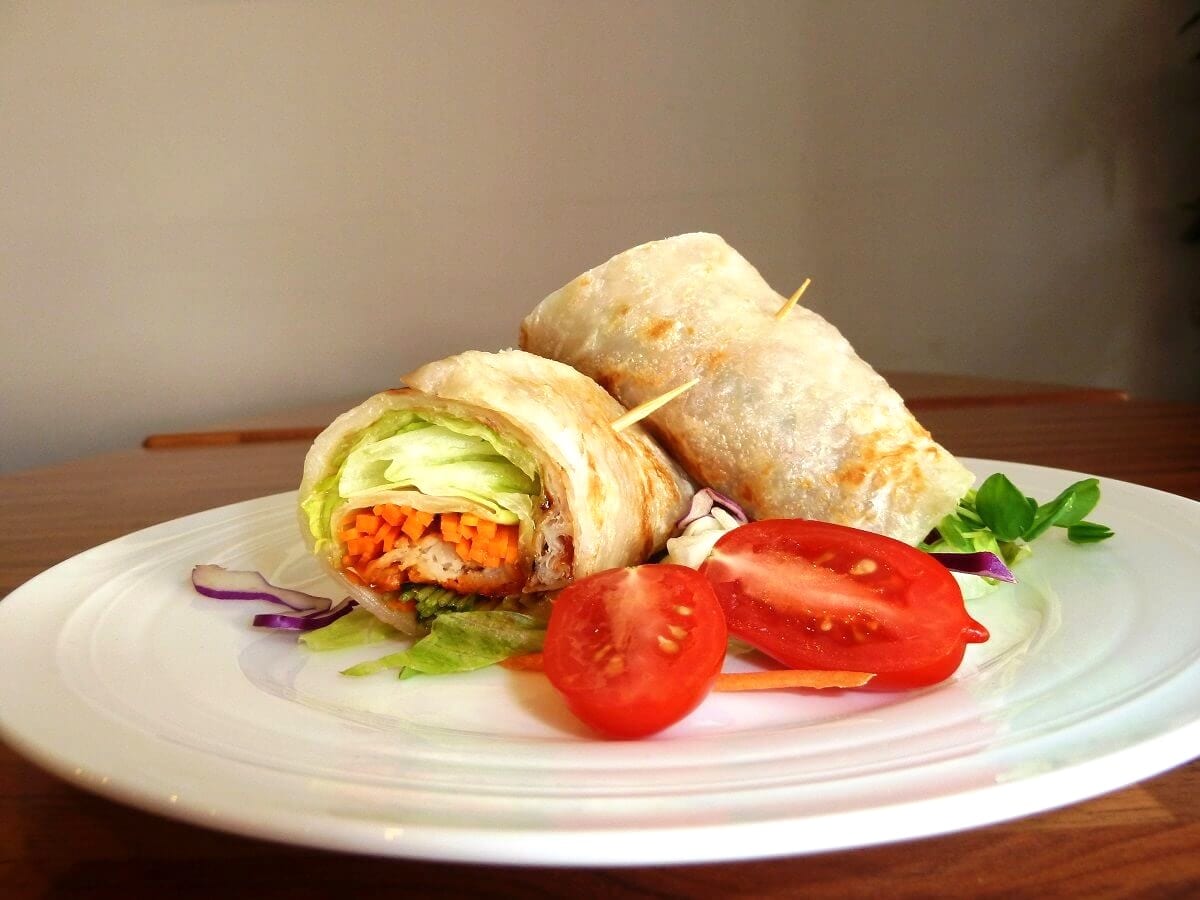 GOVINDAS PURE VEGETARIAN 
An older sister of Cardamom Pod, Govindas is a smaller venue, more suited to faster-paced dining. Although your food choices are limited to the dishes on display, it is all very appetising and portion sizes are generous. You pay according to the amount of food you want, for example, two dishes and rice costs around $9 or three dishes at about $11. The food is not only vegetarian, free of eggs, garlic and onion but also certified organic and free of pesticides, brought daily from the farm in Eungella and prepared on-site.
Samosas are generous in size and packed with veggies, the vegetarian curry is delicious, the salad crunchy and fresh with grated beetroot, garbanzos, sunflower seeds and prunes. But the standout dish for us is the kofta balls in a tomato-based creamy sauce. It's sensational!  There's also a mouth-watering assortment of desserts available if you have room after your main course. 
What: Vegan
Where: Burleigh Heads
CHI RAN 
Chi Ran is a new vegetarian bar in the western section (bottom level) of Pacific Fair. With the same chef as Tian Ran, the style here is Chinese vegetarian, although the flavours are milder than Tian Ran. All meals are under $12 – rice paper rolls, sushi, gluten-based mock meat and vegetables served with brown or white rice. All dishes can be made gluten-free or vegan on request.
What: Vegan-friendly
Where: Broadbeach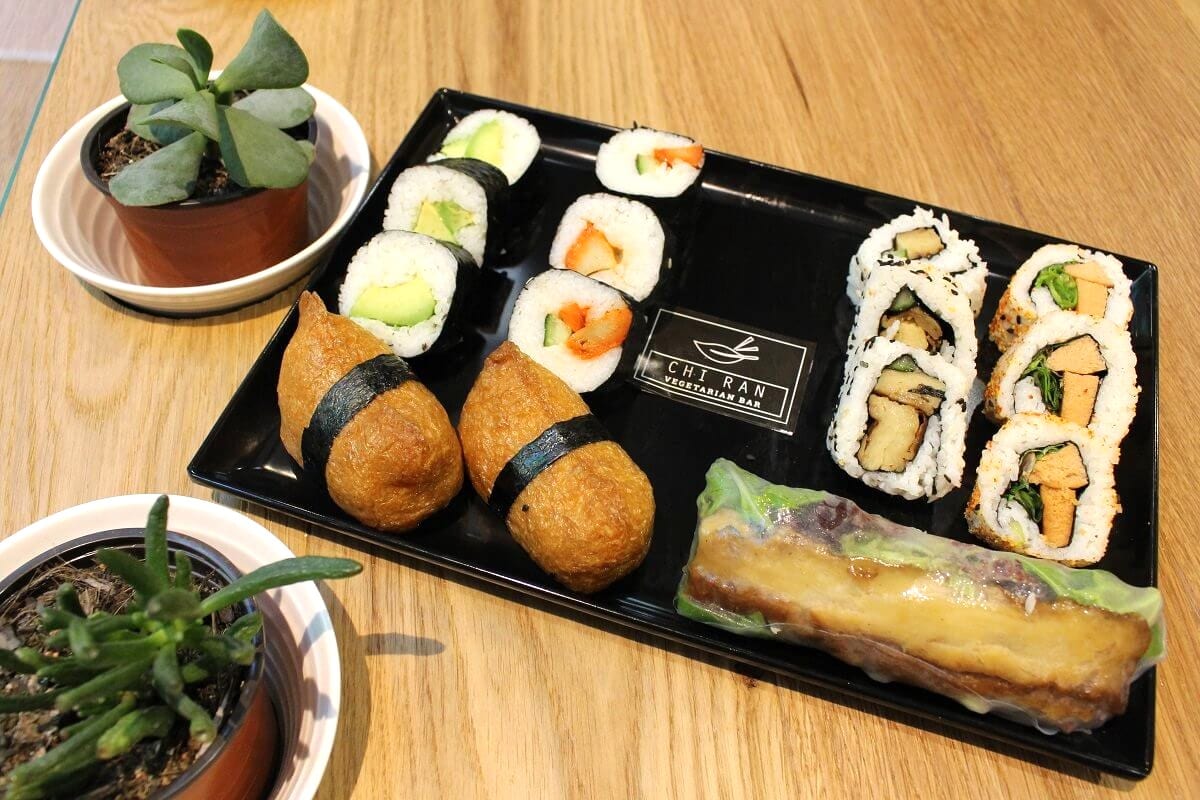 TIAN RAN
Tian Ran seems to have been around forever. Boasting one of the most hospitable hosts on the Gold Coast and the ever-smiling Eric. Tian Ran is known for it's Chinese/Asian vegetarian and vegan cuisine, using ecologically and socially responsible fresh ingredients. All food is prepared fresh daily from plant sources only. The range of dishes shows imaginative use of gluten and soy protein, mixed with seaweed, mushrooms and other vegetables. Open daily for dinner from 5.30pm.
What: Vegan
Where: Mermaid Beach
THE WOODBOX CAFE 
The Woodbox is very organic in focus, not only as a meeting place for groups but also in the food and beverage served. Sourcing as much organic produce as possible from local suppliers, the café specialises in organic and vegan options, free of preservatives, sugar, wheat, dairy and gluten. 'Clean eating', with loads of flavour in a gorgeous venue.
What: Vegan-friendly
Where: West Burleigh
VEGETARIAN PROVIDERS:
All words and images by Marj Osbourne.
Like this article?
Subscribe to our email list to receive holiday inspiration & exclusive deals straight to your inbox!
ACKNOWLEDGEMENT OF COUNTRY
Destination Gold Coast acknowledges the Traditional Custodians of the land on which we are situated, the Kombumerri families of the Yugambeh Language Region.

We pay our respects to their Elders past, present and emerging, and recognise their continuing connections to the lands, waters and their extended communities throughout Southeast Queensland.