Our seaside city has been one of Australia's favourite holiday destinations for decades but if you think you know the Gold Coast, think again! There's a whole host of new and undiscovered experiences waiting for you to dive into. From theme park rides and unique accommodation options to hidden gems and adventures in nature, discover more fun, more joy, more excitement and more ways to play on a Gold Coast holiday.
RIDES & SLIDES
Have you got a budding adrenaline junkie on your hands? Now there's even more thrills to be had with exhilarating new rides, slides and precincts to explore at some of Gold Coast's favourite theme parks.
Vortex
You won't know which way's up on this wild ride that's part of the new Atlantis Precinct at Sea World. Strap yourself in on the Vortex as you twist, turn, spin, swing and spiral 15 metres up in the air. There are great view to be had from this height, but in all honesty your eyes might be shut tight as you emit screams of terror!
Steel Taipan
Take on the Steel Taipan if you dare! The newest, fastest ride at Dreamworld is a reptilian rollercoaster with bite. Hang on for dear life through 1.2km of twists and turns, three gut wrenching launches, four inversions and a top speed of 105km/h. If that's not enough action for you, there's a sting in the Steel Taipan's tail - the Tailwhip 360⁰ which is the first rear spinning gondola in the world. Riding the Steel Taipan is included with Dreamworld entry but book separately to secure your seat in the Tailwhip360⁰ at an extra cost of $25.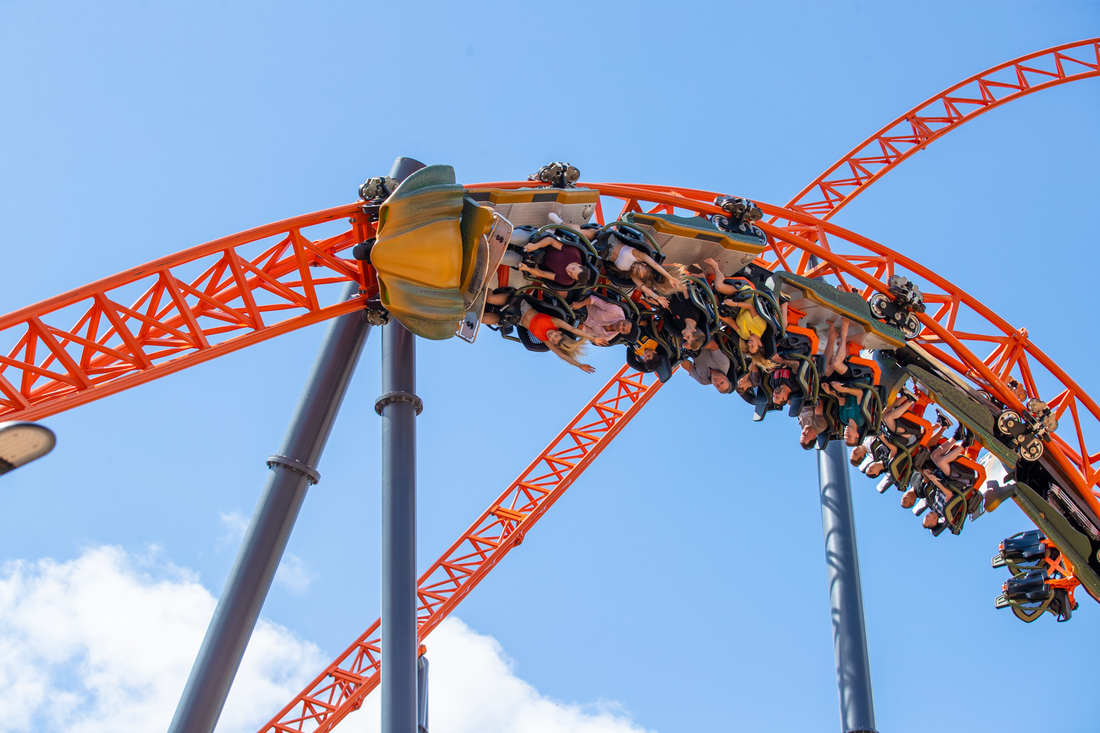 Wet 'n' Wild
Wet 'n' Wild has quadrupled the fun with four epic new attractions that are creating some serious splash. KABOOM! will have you shaking in your swimmers with a 10m drop and speeds of up 41km. The Double Barrel and Super Ripper are heart-racing rides that stand at 12m high and H2Oasis is a massive tropical splash zone with plenty of seating areas and shade to make it the perfect hangout when you need some chill time amid all the excitement.
Batman Legacy
To the Batmobile! Batman fans will be flocking to Warner Bros. Movie World for the incredible Batman Legacy exhibition - the largest in the southern hemisphere! Explore epic costumes, cars and props from many of the movies that we've loved for so long, including The Joker's iconic purple and orange overcoat, Catwoman's suit and an impressive collection of Batman masks. Complete the experience with a spin on Batman-themed rides too, like the DC Rivals Hypercoaster and the Batwing Spaceshot.
ANIMAL ANTICS
From exotic meerkats to native Australian icons, kids will be enchanted by an encounter with these cute critters.
David Fleay Wildlife Park
Tucked away on the banks of Tallebudgera Creek, this tranquil conservation sanctuary is a magical spot for the next generation of nature lovers to wonder at wildlife. Spend a fascinating few hours exploring exhibits where you'll see Aussie icons like koalas, emus, tree kangaroos, crocs, dingoes, reptiles, wallabies and even a platypus. The staff here are all Queensland Parks and Wildlife Service Park Rangers and you'll learn lots about the animals they care for at daily wildlife presentations. Relax on an elevated deck surrounded by greenery and enjoy coffee, snacks or lovely lunch at the new Fleay's Café.
Breakfast With The Koalas
Wake up the right way and share your morning meal with a koala at Currumbin Wildlife Sanctuary. Tuck into a gourmet spread while the park's koala keepers educate you on these iconic Aussie animals and the conservation projects they're part of. Plus you'll get a koala cuddle and a professional photo to capture the moment so you can always remember the cutest breakfast date you ever had.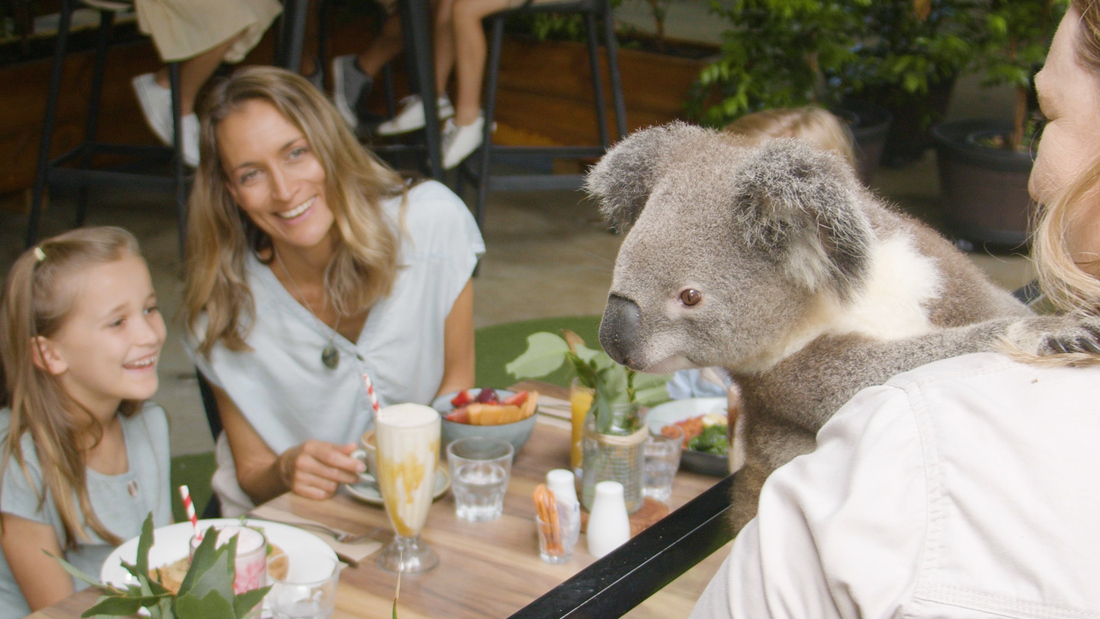 Meet the Meerkats
Say hello to the adorable Aya, Sarabi, Keeya and Maliah. This family of meerkats now call Paradise Country home and the state-of-the-art exhibit surrounded by glass panelling provides the perfect opportunity to observe them digging, exploring and foraging. Their mischievous antics are hilarious to watch - they're delightful little creatures. If you want to witness them even closer, book an interactive behind-the-scenes encounter with the meerkat mob.
Dreamworld's Spring Country Fair
With all the rides, entertainment and awesome things to do, a day at Dreamworld is full of fun and excitement. The park's annual Spring Country Fair is icing on the cake. Prepare for cuteness overload in the petting zoo, where kids can cuddle furry favourites like lambs, bunnies, calves and chicks. Add some lovely live music from local performers, delicious smokehouse eats and country style entertainment including line dancing, chainsaw carving and carnival games. At Dreamworld from September 17th to October 9th. Yeehaa - count us in!
SUPER STAYS
Luxury beach front hotel, glamping in the hinterland or an island beach shack? Whatever kind of accommodation style you prefer, we've got you covered.
Encore Broadbeach
Luxury accommodation usually means a hotel stay, but Encore Broadbeach brings a new level of luxury to two and three bedroom apartments with a Marrakech-meets-Miami vibe. With bold design, luxe natural textures and opulent details, these apartments are seriously stylish and come with sweeping views that stop you in your tracks. There's a sublime stone-tiled lap pool and spa, a sauna and indoor gym plus a private residents lounge and BBQ area where you could happily spend the whole day. Beaches, boutiques, parks and dining in Broadbeach are a short walk away and you can enjoy the unique experience of watching the sun rise over the ocean from the comfort of your bed.
Binna Burra Safari Tents
Get back to basics and immerse yourself in nature with a safari tent stay at Binna Burra Lodge. Tucked away in the wilderness, high up in the hinterland, they're a comfortable way to camp without the hassle of putting up a tent. Wake to the sound of bird call in the canopy, and enjoy cascading valley views and the scent of morning campfires from your breakfast bar. This is the perfect homebase from which to explore the many hikes and short walks through Lamington National Park's lush rainforest, ancient trees and stunning waterfalls.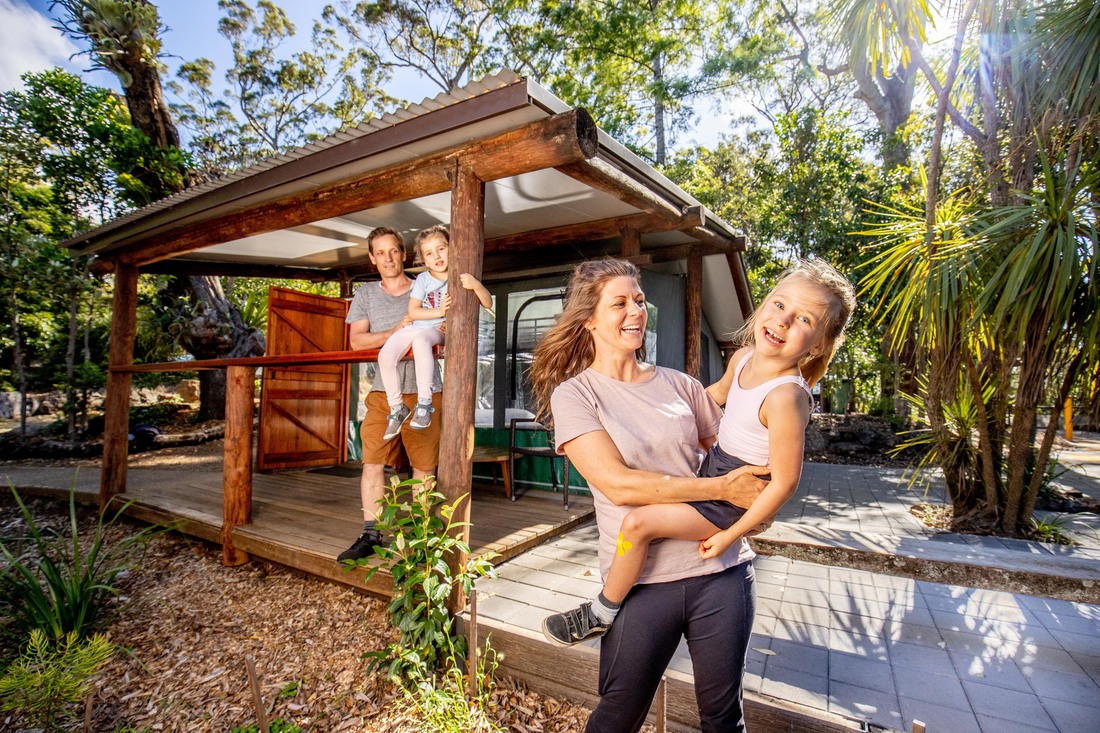 Cedar Creek Lodges Woodland Glamping
Get away from the hustle and bustle and sink into the serenity that comes with this glamping experience. The Woodlands Glamping tents at Cedar Creek Lodges are perfect for those who want to get back to nature without sacrificing comfort, convenience and mod cons. Nestled in the rainforest of Tamborine Mountain, these tents provide rustic camping but with a touch of luxe. We're talking a king size bed, TV, a day bed, microwave, your own fire pit on a private deck and the cherry on top - your own ensuite with an open air shower. All the fun of Thunder Bird Park is right on your doorstep and there are wineries, waterfalls and hidden hinterland gems just waiting to be discovered nearby.
Big 4 Gold Coast Holiday Park
A stay at the Big 4 Gold Coast Holiday Park is sure to be a hit with the whole fam. This park is packed with activities that kids will love and offers a variety of accommodation including camping and caravan sites, fully equipped cabins and motel rooms. If you're on the Gold Coast to visit the theme parks, then a stay here is ideal as it's conveniently close to the major players. That said, you don't need to venture anywhere. There's a monster water park and pool area on site, complete with a café serving everything from coffee and snacks to cocktails and meals in a breezy outdoor dining area. Everyone will love it, including your dog, who is also welcome to stay.
Meriton Suites at Surfers Paradise
In a landmark location, the newly built Meriton Suites Surfers Paradise are right where you want to be. In the heart of the action, right by the beach, and within walking distance to the dining, shopping and attractions of the Gold Coast's central suburb. This hotel features spacious suites with generous balconies with unobstructed views of sandy beaches and golden coastline. Stay in stylish studio, 1, 2 and 3 bedroom suites with luxurious fittings, furnishings and design. The best bit for families is every suite comes with a gourmet kitchen and everything you need to make home-cooked meals, an internal laundry with washing machine and dryer and a gorgeous indoor heated swimming pool that shares the same incredible coastal views.

Family by JW Marriott
JW Marriott Resort & Spa has long been a family favourite - the saltwater lagoon complete with waterfall and tropical fish is a hit with kids. And the opulent suites, impeccable service and delicious dining options mean it's preferred by parents too. Their new interactive program, Family by JW, allows guests to create meaningful moments around creativity, activity and culture. From hands-on cooking classes with the chefs, harvesting in the JW Garden, fish feeding in the lagoon or beach walks with this family, explore fun filled adventures curated to connect and inspire the whole family throughout your stay.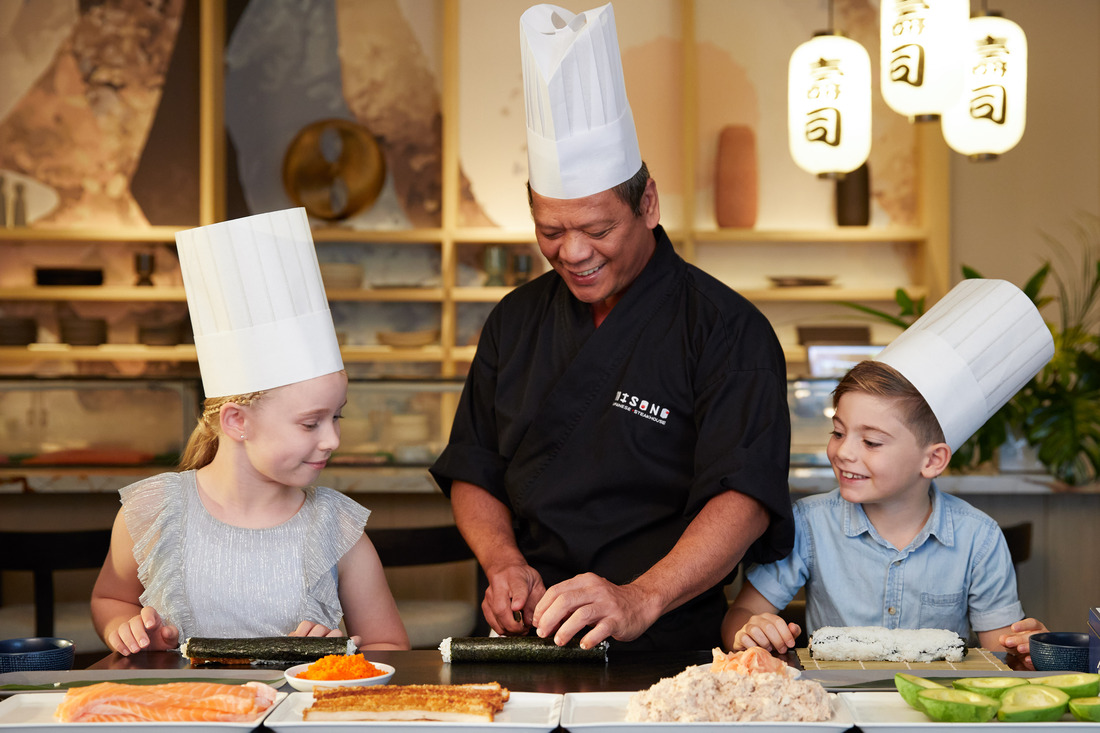 Stradbroke Island Shacks
South Stradbroke Island is one of Gold Coast's best kept secrets. It's only a couple of kilometres from Main Beach, but as this special spot is only accessible by boat, it offers a real sense of escape. Kilometres of empty beaches, no cars, no crowds, no traffic… Just a sky full of stars, perhaps a crackling campfire and the soothing rhythm of waves lapping at the shore. For those who don't want to lug an entire camping set up across, the Island Shacks provide a convenient and comfortable alternative. Created from shipping containers, they come with comfy beds, linen and towels provided, plus you'll have access to camp fires, gas BBQs, hot showers (yes!) and toilets. Nearby Tipplers Cafe serves up breakfast, lunch and dinner if you want to skip meal prep. If nature- based chill time, boating, beaches and water activities are your cup of tea, the Island Shacks at Straddie (as the locals know it) are the perfect place to stay.

Paradise Country Farm Stay
Kids love Paradise Country so much they won't want to leave - and if you treat them to a Farmstay experience, they won't have to! Stay the night in a luxurious eco tent with your own ensuite and a host of exclusive experiences. Rise and shine to join in egg collecting, animal feeding and cow milking. And in the evening relax on the lawn for farm games and a visit from some farm animals before roasting marshmallows around the camp fire. Good old fashioned fun that the kids will remember for a long time to come.
ACTION & OUTDOORS
Get physical and have fun with an array of active pursuits, perfect for little people to let loose!
GC Aqua Park
Bouncing and swimming are two activities that produce massive amounts of fun. When you combine the two, you know it's going to be epic. With two locations in Oxenford and Southport, GC Aqua Park is Gold Coast's only inflatable water park and boasts some of the highest water inflatables in Australia. Fully trained lifeguards ensure everyone is safe as you climb, slide, bounce and splash your way across an epic obstacle course. At the Southport location, beautiful Broadwater views and shaded spots to relax mean that parents love it as much as the kids. (Minimum age is 5 and kids under 10 require adult supervision.)

Surfers Paradise Mini Golf
Friends and fam will have a 'hole' lotta fun at Surfers Paradise Mini Golf. Their Western themed 18 hole course is challenging in the best way and will require focus, skill and putting prowess. Spend a happy few hours in the FunZone playing the numerous games on offer including a GIANT dartboard, mega Jenga, super sized Connect 4, not to mention ping pong and bocce. The friendly staff here go above and beyond to look after you and ensure a good time is had by all. After all the fun, enjoy refreshments and icecreams in the undercover picnic area.
Just Ride Nerang
There are some epic spots for mountain biking on the Gold Coast, but if you're visiting without your wheels it doesn't mean you have to miss out. You can hire a mountain bike at Just Ride Nerang for a few hours or a few days. Their awesome staff have the knowledge and know how to ensure you get the best off road ride at local trails. Take on over 70km of single track trails at Nerang National Park or hop on their shuttle for an adventure at Boomerang Farm Bike Park with 14 trails catering to different skill levels from Green Lines through the Double Black. The best fun you can have on two wheels!

Tamborine Forest Skywalk
A nature walk is always an awesome eco-adventure but if you want an elevated experience (quite literally) take to the treetops on the Tamborine Forest Skywalk. Explore the canopy on a system of steel bridges and a 40m cantilever bridge that soars 30 metres above the rainforest floor. As you look out over pretty rock pools and rich vegetation you'll spot birds and butterflies, flitting through the branches. Informative signage along the way tells you about the surrounding habitat and trees. It's a unique and thrilling way to indulge in some nature appreciation.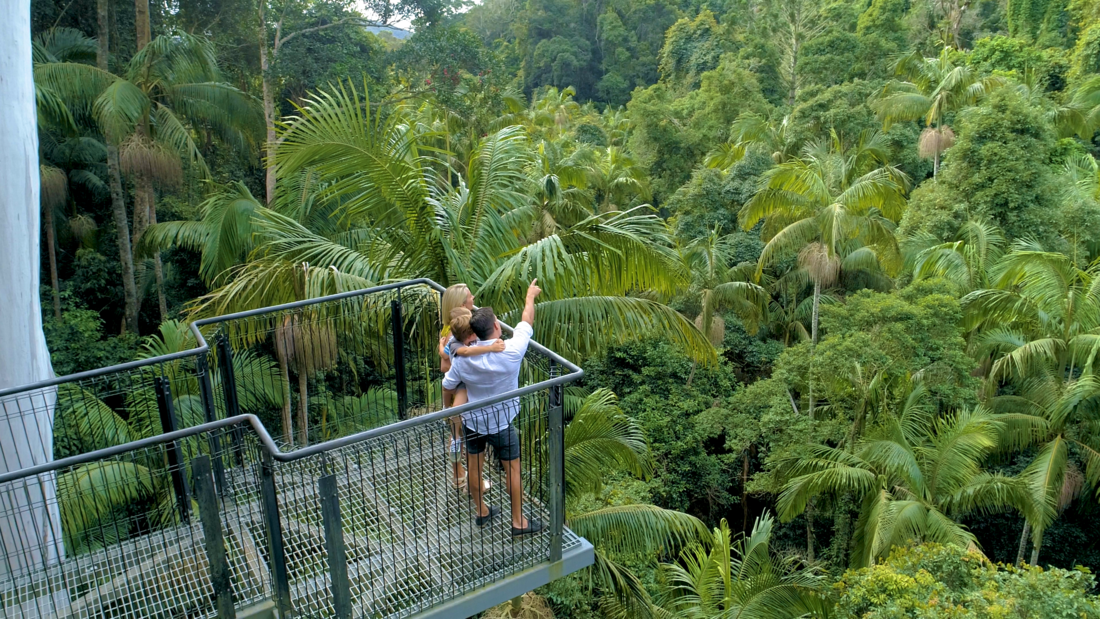 Game Over Indoor Go-Karting
Move over Matchbox cars - at Game Over you can race for real at their awesome indoor go-karting track. 7 to 12-year-olds can get behind the wheel of the Junior Race karts and rip around the track in an exhilarating experience that will leave them buzzing (younger kids can join a parent in the Duo Carts). To solve any arguments about who was the fastest, they'll get a printed card featuring their race times. There's so shortage of fun to be had here - Game Over is an indoor entertainment mecca which also offers laser tag, rock climbing and mini-golf.
Maniax Axe Throwing
Channel your inner viking and try this awesome activity with a difference. During a session at Maniax Axe Throwing, your expert coach will give you a safety briefing, teach you how to throw and offer guidance to help you hone your skills. Hearing the axe thunk into the wooden target is deeply satisfying. It requires technique and accuracy over strength so anyone can have a go. It's kind of like darts, but with weapons, which is way cooler and a whole lot of fun. Hurling hatchets might not seem like a child-friendly activity, which is why participants need to be over 13 and accompanied by an adult. Little kids are welcome to come along and watch the fun.

CULTURE & CURIOSITY
Cultivate curiosity and let your imagination run wild with experiences that are left of centre and lots of fun.
Tropical Fruit World
Drive 10 minutes south of Gold Coast Airport and turn off the M1 when you see the big avocado to discover a truly unique experience – Tropical Fruit World. This award-winning farm is a must-do for lovers of fun, food, nature, health and well-being. There are 500 species of tropical and exotic fruit grown here and you'll see them growing in lush and lovingly tended orchards on a fully guided tractor tour of the plantation. Even better, you'll get to sample them in a fruit tasting session – try the chocolate pudding fruit for something different. The tour also includes farm animal feeding, a bushland boat tour and a visit to the Island Playground where kids will love mini putt-putt and a flying fox.
HOTA Children's Gallery
Bring the kids to HOTA Gallery for an excellent cultural experience that will spark their smiles and ignite their imagination. There's a special gallery just for them - an interactive space where they're welcome to get hands on and enjoy an immersive experience. HOTA commissions different artists to exhibit in the Children's Gallery but every installation is created to engage and inspire. They'll be able to take part in craft activities and explore their own creativity, as well as learn to appreciate the arts. The sprawling parklands that surround HOTA Gallery are a wonderful place to play and picnic after a wander around the amazing gallery - be sure to ride the elevator up to Level 5 to marvel at 270 degree views of the Gold Coast.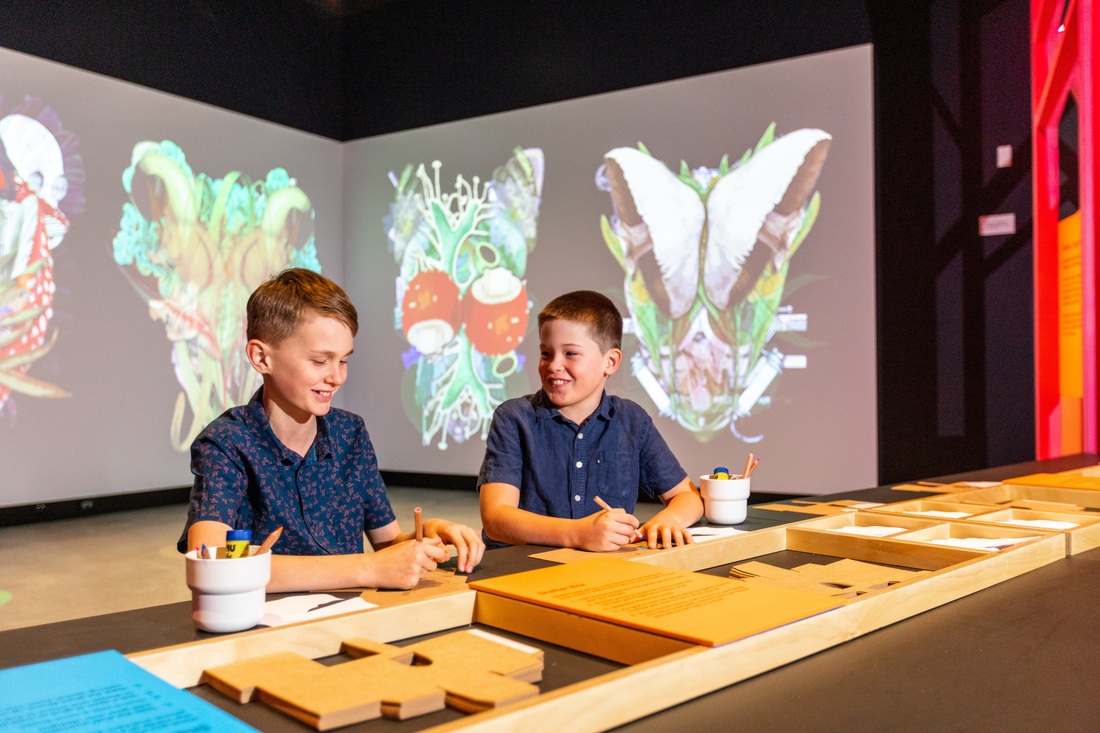 Padlock'd Escape Rooms
Want to test your problem solving skills? Padlock'd Escape Rooms offers 60-minute immersive escape games that are as exciting as they are challenging. Padlock'd is Australia's biggest escape room venue with a range of experiences to suit all skill levels and ages from 10 and up. You get locked in a themed room with your team (2- 6 people) and using lateral thinking, communication and teamwork, you need to solve the puzzles and find clues to get out of there. No specific knowledge or skills are required - just brain power! And if you get stuck you can press a button and get a clue to help you along.
Zero Latency
This is gaming, but not as you know it! Prepare to lose your mind as you're transported to a new reality – a virtual reality that is. Based in Southport, Zero Latency boasts state-of-the-art wireless technology with motion tracking, meaning you can live out your greatest gaming fantasies (from zombies and space stations to journeys through the jungle), untethered. With up to eight people roaming freely through the 200 sqm arena in each game, this is one teens (and everyone else) will absolutely love. If you're looking for one of the best gaming experiences on the Gold Coast, this is it. *For 13 years and over.

Jellurgal Little Explorers
Children can explore the magic of the 'Dreaming Mountain' (Burleigh Headland), with Jellurgal Aboriginal Cultural Centre. Little Explorers is for children from 5 to 12 years of age and includes an Aboriginal art workshop and short guided walk from the Centre to Burleigh Head National Park and Tallebudgera Creek. Kids will learn about the numerous significant sites and environmental features that have played an important part in the lives of the Yugambeh speaking people for thousands of years. One parent/ guardian per kid is welcome to come along too. It's a beautiful, cultural experience that nurtures respect and appreciation for our First Nations friends.
Gold Coast Motor Museum
Cool, classic cars and bikes galore can be found in abundance at this amazing motor museum. There are over 75 models ranging from 1900 -1988 all meticulously restored and you'll find everything from Holdens and Lamborghinis alongside relics from the past like horse-drawn buggies, old fashioned phones and period fashion. Entry is free for kids under 15 and and just $20 for adults. Gold Coast Motor Museum is set on 12 acres up on a hill overlooking a stunning hinterland location with Stanley's Barn Restaurant & Bar in a rustic barn right next door - the perfect spot for a relaxed lunch overlooking the Coomera Valley.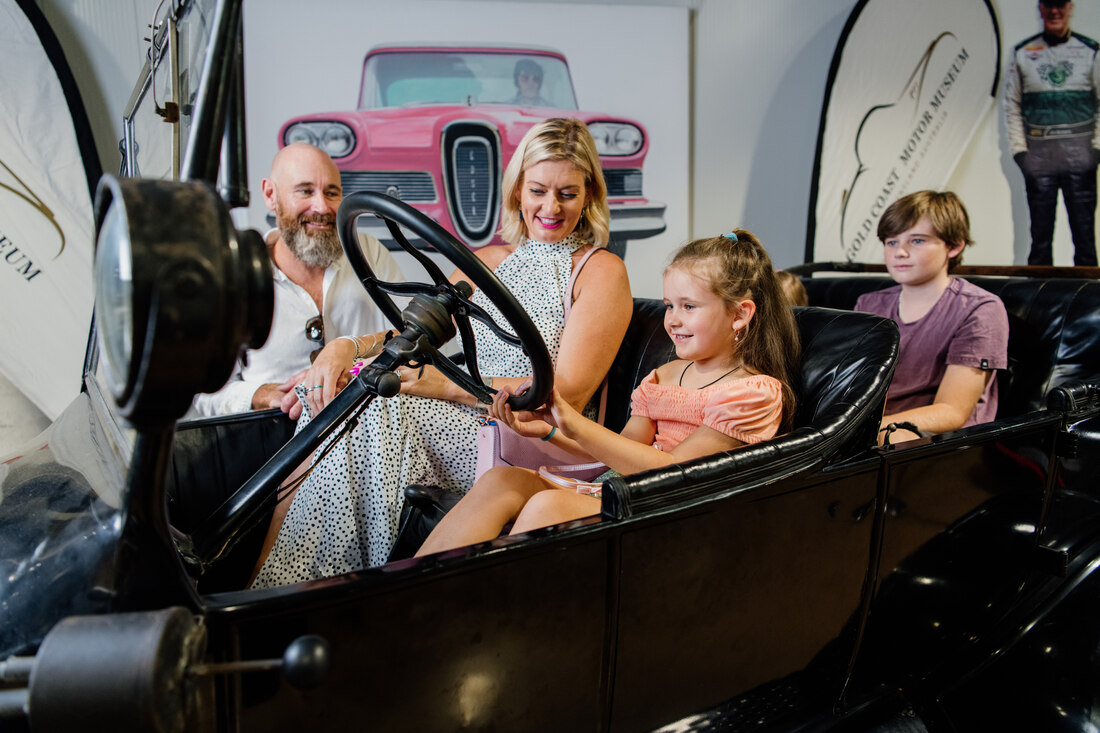 Extinction Trail at Currumbin Wildlife Sanctuary
Have you ever met a Muttaburrasaurus? Here's your chance! The most recent addition to Gold Coast's iconic wildlife sanctuary is the Extinction Trail - an augmented adventure that brings dinosaurs to life and explores what the world was like long before humans existed. Learn how dinosaurs lived, how the earth changed and what was behind the mass extinction that wiped out three quarters of the earth's plant and animal species millions of years ago. Budding palaeontologists will be completely captivated! The Extinction Trail is free with the price of admission to Currumbin Wildlife Sanctuary.
Artvo Gold Coast
Become part of the art at this ingenious "trick-gallery" at ArtVo Gold Coast in Robina Town Shopping Centre. Talented artists have transformed larger than life, magical murals into interactive displays that transport you to spectacular scenarios, which appear incredibly life-like on camera. Kids will love this place – not only are they allowed to touch the artworks, but they become part of the picture as you snap photos too. $15 for a child's ticket will get you all day entry and kids under five get free entry. Visit ArtVo Gold Coast for some holiday photos that are far from ordinary.
ACKNOWLEDGEMENT OF COUNTRY
Destination Gold Coast acknowledges the Traditional Custodians of the land on which we are situated, the Kombumerri families of the Yugambeh Language Region.

We pay our respects to their Elders past, present and emerging, and recognise their continuing connections to the lands, waters and their extended communities throughout Southeast Queensland.