The Gold Coast has long been known for putting the 'fun' in family holidays, thanks to its plethora of activities to suit all vacation types and thrill levels. If you're the more enthusiastic thrill-seeker type and are on the hunt for your next adventure to get the heart racing and adrenaline pumping, chances are you'll need to look no further.
From getting wet to flying high and not even moving at all, we've (tried, tested and) curated the 10 best thrill-seeking activities that will leave you both a little weak in the knees, and beaming with a smile that spans from ear to ear.
The question is… are you ready to experience them all?
GET WILD ON THE WATER
Similar to the thrill of a rally car, jumping aboard a jet boat will be a ride to remember. With the wind in your hair (and in the comfort of a lifejacket), you'll set out on the water on an open-top vessel to experience 360° spins and slide manoeuvers at up to 80km per hour. Or (by our calculations) at up to 22 metres per second! You'll also get to experience some of the City's stunning natural scenery and its iconic Surfers Paradise skyline. Check out Jet Boat Extreme or Paradise Jet Boating for this unique adventure of thrills, sightseeing and all-round serious fun.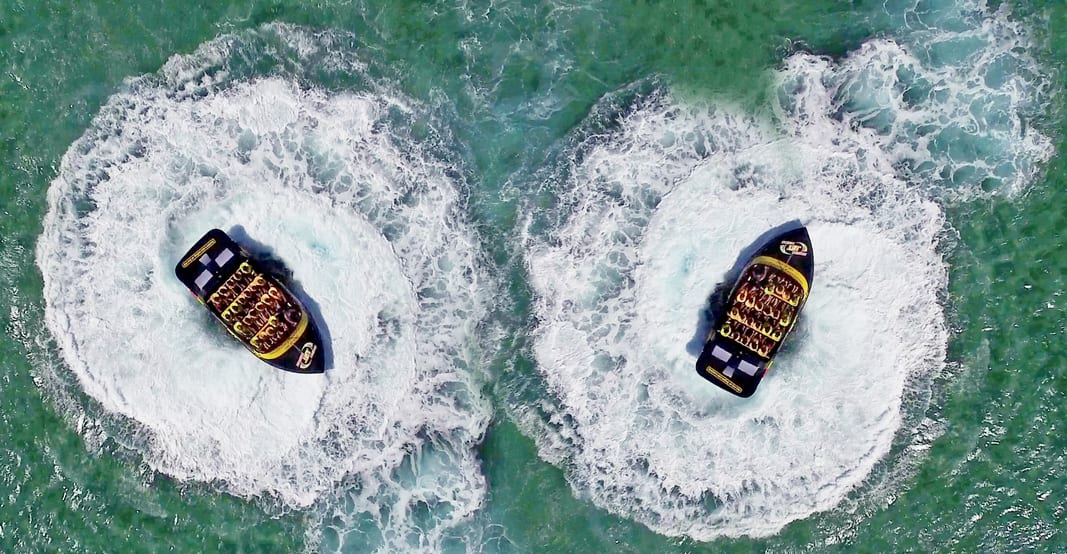 Requirements: Children over 4+ years old can ride
Where: Departures from Surfers Paradise & Main Beach
Cost: Adults from $60 p/p + kids from $42 p/p – family passes are also available
SPRING INTO THE CLOUDS
Like the sound of being catapulted at over 160km per hour through the air? Well, that's exactly what you'll get at Surfers Paradise's resident amusement fun park. Reaching an altitude of 80 metres combined with the acceleration of 6 g-forces, the Sling Shot ride will have your heart and mind beating faster than well… anything we can compare it to. If you're game, the fun park is also home to the 'Vomatron' and yes, you guessed it… will have you feeling like your stomach has left the building.
Requirements: Riders must be over 110 centimetres tall
Where: 6 Palm Ave, Surfers Paradise
Cost: From $20 p/p
CLIMB OF A LIFETIME
Atop one of Queensland's and the Gold Coast's most recognisable landmarks, the Q1 SkyPoint Climb will have you suited up for an absolutely breathtaking 90 minute climb to the peak of the Q1 Resort building in Surfers Paradise – level 77 to be exact. In the presence of a climb guide up the 270 meters of the external building tread, you'll enjoy unmatched 360° views of the lush Hinterland region, iconic city skyline and 50+ km stretch of stunning white sandy beaches that span from the City's Northern to Southern regions.
Requirements: Over the age of 12, 130cm in height and under 136kg
Where: Q1 Resort and Spa Building – 9 Hamilton Ave, Surfers Paradise
Cost: Day climbs start from $77 p/p. Pre-bookings essential
STUNT ACADEMY
Ever wanted to have a go at the stunts movie actors (or their stunt doubles) play in the Hollywood blockbuster movies? Regardless of whether you're afraid of heights, the thrill of stunt action experiences at Stunt Park is enough to induce that addictive release of excitement. High falls (out of a building-shaped scaffold), rappelling and samurai swordplay are just a few of the elements on offer during their half and full day sessions.
Requirements: Ages 6-14 can participate in Stunt Kids. Adult programs are suited to 15's+
Where: 7027 Southport Nerang Rd, Nerang (take exit 69 on Pacific Motorway M1)
Cost: Half day adult sessions from $299 & $140 for a full day kids holiday program
RIDE A ROLLERCOASTER
Scan the bucket list of any thrill-seeker and you're bound to find a rollercoaster or two. Just like the adrenaline junkies theme park delight, Six Flags in the US, your next equally exhilarating adventure awaits at our famous theme parks, Dreamworld and Movie World – and for good reason.
Since its official launch in 2010, be part of the over 8 million people who have strapped into Dreamworld's Tower of Terror. In just seven seconds at 161km per hour, you'll soar backwards (yep, backwards) over 38 stories directly upwards toward the skies on its horizontal track and cart. And the best part? What goes up must come down, so before you catch your breath, you'll be nose-diving back to earth face first for a true stomach-churning experience.
If you want to continue the theme of height and speed, try out Movie World's DC Rivals HyperCoaster – the tallest, longest and fastest in the Southern Hemisphere. At the helm of the Joker, twirls, drops and non-inverted loops are all part of the 1.4m purple menacing track.
Requirements: Minimum ride height of 120cm (& minimum age of 7 years old for the HyperCoaster)
Where: Dreamworld: Coomera | Movie World: Oxenford
Cost: One-day & annual passes available to both parks
BREEZE THE BITUMEN
Just minutes from Dreamworld in the great outdoors, race your friends (day or night) in a 9hp go-kart at the one and only, Slideways Go Karting World. Thinking… 'I've been go-karting before', then think again – this isn't your run-of-the-mill karting experience that you'd expect from a normal indoor centre. Hitting up to 70km per hour over the 700m stretch of bitumen straights, banked corners and tight turns, every minute of acceleration at SGKW is guaranteed to be a (brief) heart-stopper.
Requirements: Riders must be over 120 centimetres tall to drive the karts. Passengers can be 90 to 130cm tall
Where: 232 Old Pacific Hwy, Pimpama
Cost: 10 minute races from $39
DIVE FROM THE SKY
Adrenaline adventures don't get more action-packed than casually falling out of a plane and experiencing the open-air with a parachute (and tandem diver) in tow! At Gold Coast Skydive, you'll jet set from Coolangatta airport; taking in the breathtaking scenery (and your very own heavy breath) until you reach the drop point, leap out of the plane and free-fall back down to paradise, for the jump of a lifetime. Owner, Chief Instructor, Pilot and all-round legend Archie Jamieson and his crew are also the only commercial Skydive team that will have you land on the golden sands of the iconic Kirra Beach.
Love the idea of this ultimate buzz but aren't ready to take to the skies? IFLY Indoor Sky Diving is the perfect mix of thrill and control in one, for those who still want the rush and the taste of feeling weightless thanks to gravity. Its controlled environment also makes it accessible for people of any age or ability.
Requirements: Must be 12 years or over for an open-air Skydive
Where: 18 Coyne St, Coolangatta
Cost: Single jumps from $330 p/p
IN FULL FLIGHT
Strap in for a swinging time at Mt Tamborine. Part of the Tree Top Challenge in the home of Lamington National Park, you'll find the Canyon Flyer attraction – one of Australia's largest guided zipline tours. At speeds of up to 70km per hour, (gripping on to what feels like dear life) you'll zoom back and forth across Cedar Creek canyon at more than 70m above the ground! With 7 different ziplines to experience atop the stunning rainforest canopy, and permission to go upside down, backwards and even cannonball during flight, you're sure to have one hell of a time.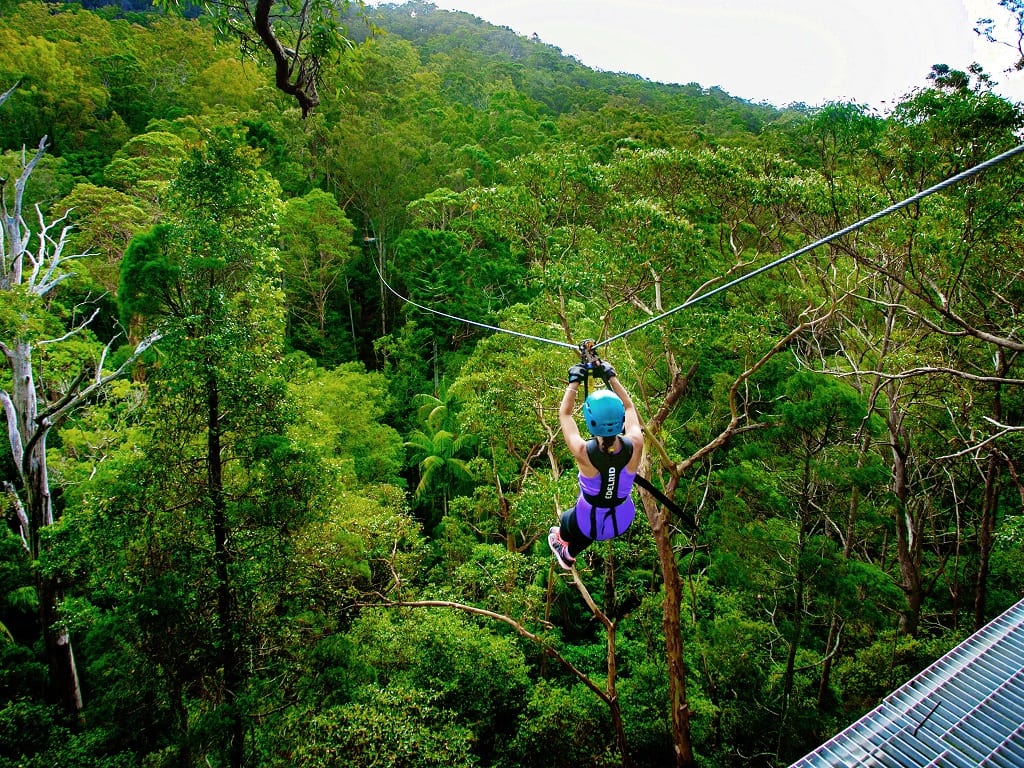 Requirements: Adventurers must weigh over 40kg and under 120kg
Where: Cedar Creek Falls Rd &, Tamborine Mountain Rd
Cost: Kids from $100 p/p & adults from $120 p/p
ESCAPE ROOM
If time trials and puzzles get you going, then this collection of meticulously designed escape rooms will be right up your alley. Made for groups of 2 or 6, get locked in and clued up to see if you can work together to beat the clock and break out. All in an intense nail-biting hour of pulse-racing excitement. Escape Hunt and Padlock'd are waiting for you to find the answers before it's too late. And if you manage to keep your cool and succeed? Take it up a notch with a 10-point difficulty room level to really get the heart and mind working in overdrive.
Requirements: Games recommended for players aged 7+, with 1 player aged 15+ in the room
Where: Padlock'd: Surfers Paradise | Escape Hunt: Southport
Cost: From $32 p/p for Padlock'd & $82 p/p for Escape Room
RIDE SHOTGUN
If you thought drift manoeuvres on the water was electrifying, we can confirm they too are just as adrenaline-filled in a Hollywood Stunt Driver car. Movie World offers a VIP experience for those who like to pedal to the metal and be involved in behind the scenes action. Just like a rally co-driver, you'll (trustingly) ride shotgun with a professional stunt driver who'll take you for the ride of your life.
Requirements: Riders must be 10 years of age or over & a minimum of 152cm
Where: Oxenford, Movie World
Cost: From $149 p/p + park entry ticket
And there you have it – our top 10 best thrill-seeking activities you can experience right here on the Gold Coast.
We'll see you soon!
Like this article?
Subscribe to our email list to receive holiday inspiration & exclusive deals straight to your inbox!
ACKNOWLEDGEMENT OF COUNTRY
Destination Gold Coast acknowledges the Traditional Custodians of the land on which we are situated, the Kombumerri families of the Yugambeh Language Region.

We pay our respects to their Elders past, present and emerging, and recognise their continuing connections to the lands, waters and their extended communities throughout Southeast Queensland.